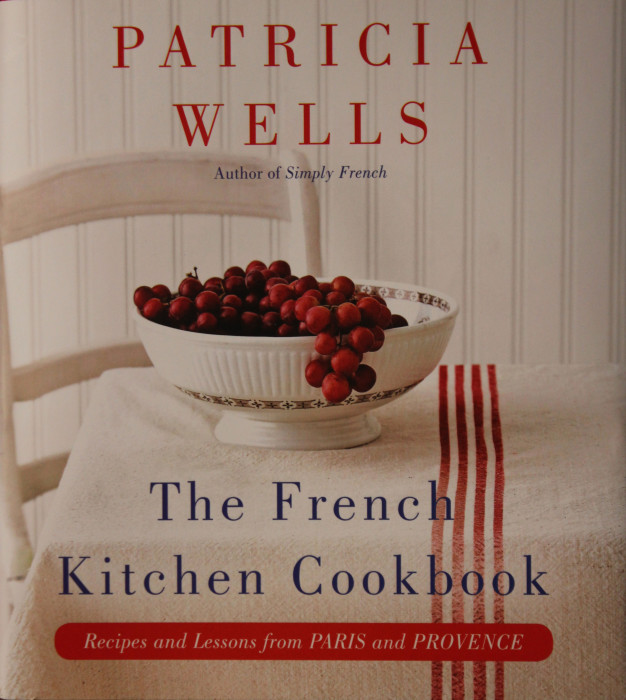 The French Kitchen Cookbook is the fourteenth book in the portfolio of Patricia Wells. Each of her books, whether cookbook or travel guide, is a journey that enlightens, entertains, and ultimately warms your palate with recipes on its pages. Or sends you down some French byway where, behind an elegant Parisian glass door or a rustic wooden portal, serious food awaits.
For Patricia, food is serious but always a joy. Something to be explored for new ideas, to be taught to eager students, to be shared with friends and family, and offered to a wide audience on book pages. This volume continues that tradition. Here you will French food in abundance:
• Pork Braised with Star Anise and Hoisin Sauce
• Spicy Thai Pumpkin Soup
• Open Faced Ravioli
• Quesadillas
• …
Oh, did I offend your Gallic sense of proper French food? Quesadillas? It's okay. First of all, Patricia Wells is American, not French. I've seen her passport. Second, she's a world class author and teacher and in this book her French kitchen simply opens its windows to the world. French techniques and ingredients are applied with inspiration from around the planet. Sometimes close: those Italian Ravioli. Sometimes distant: that Thai soup.
Don't worry. The recipes from the other side of the planet are given a French touch: the quesadillas are filled with goat cheese and lemon thyme. The hoisin sauce is homemade, so you get the natural flavor with no preservative overtones.
There are plenty of real, authentically French recipes in The French Kitchen Cookbook, too:
• Potato, Cheese and Bacon Gratin
• Cabbage, Ham, Potato and Pea Soup
• Provencal Lemon Braised Asparagus
• Braised Cabbage with Smoked Sausage and Mustard
There are recipes here for every season, every day of the week, for every situation. If you have time on your hands, a Fricassee of Chicken with Fennel, Capers, Artichokes, Tomatoes and Olives will have your worshipping your Dutch oven. You want pizza but don't have the time? Then Penne with Tomatoes, Rosemary, Olives, Artichokes, and Capers can have you satisfied in just moments.
No, it's not an accident that both those recipes use olives, capers, artichokes, and tomatoes. This cuisine is French but most specifically Mediterranean. Provence offers a symphony of flavors and Patricia is the conductor, orchestrating all the possible ingredients into her crafted combinations. Her recipes are rarely little tunes. Most often, they are compositions.
At her home in Provence, where she teaches, an early act of the day is to send students out into the garden. What's there and fresh and ready is what is prepared that day in class.
I don't think this woman has ever uttered the phrase, "First we defrost …"
As with her previous books, the production team has made The French Kitchen Cookbook a lovely experience to read and to use in the kitchen. There are grand full page photos. The paper is slick, the margins wide. There is plenty of white space making the book seem light and airy and easy to read. It's as if a zephyr of ink had danced over each page, leaving traces of words, sentences, and paragraphs. It's an enchanting book, one that will never intimidate you.
And there is the writing. Patricia Wells has a voice that invites you to the kitchen and to the table. She has knowledge, for sure. She is authoritative, but never authoritarian. Read the header notes for any recipe here, and you'll find yourself educated and inspired.
If you have never bought a book by Patricia Wells, now is the time to begin. If you have all the others, then there is still new ground here for you to sample. What should you start with? Well, isn't it obvious: those quesadillas.