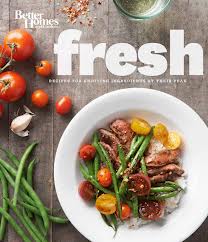 The classic Better Homes and Gardens Cookbook, that volume with the red and white checkerboard cover, is a fixture in many of our kitchens. That is a great book, but Better Homes and Gardens does spawn even better ideas.
They have a new book entitled Fresh: Recipes for Enjoying Ingredients at Their Peak. In a nutshell, go buy this book. Because this, this is precisely the cookbook you want to "cook locally" and "cook seasonally." This book will be a best seller and will become as familiar as that checkerboard classic.
You, your family, your friends, all of us face a common problem. We want to eat healthy. We want something different. We don't have a lot of time. We don't want to leave a significant proportion of the family income at Whole Foods. It's a maze of wants and concerns. Where do we turn? To Fresh.
The book has a not-quite-standard layout for its chapters:
Breakfast and Brunch
Appetizers, Snacks and Drinks
Main Dishes
Big Salads
Soups, Sandwiches and Pizzas
Little Salads and Sides
Desserts
What is different here? Well, that chapter on Big Salads is one thing. Here you'll find recipes that reflect a trend and a desire. How to get a full meal, and perhaps some protein, but still have it on the "lighter side." It turns out there is life beyond steak and mashed potatoes after all.
Pizza, the treasure that all families crave, gets its full recognition here. And desserts? Well, this chapter is not filled with cakes, cookies and pies. The chapters subtitle tells it all: fruit, barely embellished, satisfies the sweet tooth.
The philosophy in this book is simple: easy recipes, bright new flavors, dishes that will turn your head and definitely satisfy your brain. Here's a small sample of what you'll encounter from breakfast to dessert:
Cranberry-Buttermilk Muffins
Lemon-Ricotta Blueberry Pancakes with Black and Blue Sauce
Butternut-Sage Crostini with Ricotta and Hazelnuts
Cucumber Sangia
Watermelon Martinis
Warm Salad wtih Lamb Chops and Mediterranean Dressing
Short Ribs with Port Wine, Apples, Figs, and Onions
Mustard-Rubbed Pork Loin with Rhubarb Sauce
Stuffed Poblano Chiles with Chorizo Gravy
Wild Rice-Stuffed Acorn Squash with Cranberries, Pecans, and Pancetta
Succotash Salad with Buttermilk Avocado Dressing
Fresh Sweet Corn Soup with Toasted Corn Guacamole
Lamb Meatballs on Flatbread with Quick Pickled Cucumber Salad
Potato Salad with Caramelilzed Onions and Roasted Chile Vinaigrette
Strawberry Pavlova
Blackberry-Lemon Ice Cream Sandwiches with Pistachio Shortbread
That's a long list, I know, yet Suzen and I will be testing many if not all of these over the months ahead. They just interest us that much. If you browse through Fresh you are bound to come up with a long list of your own. Fresh is filled cover to cover with very new, very distinctive, and very "doable" recipe. There is a bounty of ideas here that will intrigue you. I already blogged about the Baked Jalapeno Poppers that gave me gooey satisfaction.
Individually, the recipes come with a surplus of additional information. There is nutritional information on calories, fat, sodium, carbs, fiber and other items you may wish to watch. A top-note above each recipe lists the main ingredient and what is the best time of year for the recipe. So, you can easily flip through, searching by ingredient or by season.
The book is well photographed. Each recipe gets its own page, so there is no "crowding" here. The layout makes each recipe easy to read and follow. The instructions are clear, well written, and broken into logical steps. You won't get lost here at all.
Fresh is a wonderful general purpose cookbook, offering you just that: fresh ideas, fresh attitudes, and fresh inspiration.
Fresh has just been published. You should see it prominently and deservedly displayed in your local bookstore.