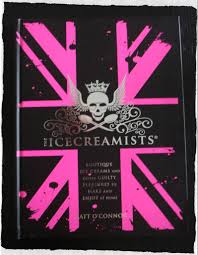 You probably want to get your own copy of The Icecreamists just to understand the full scope of author Matt O'Connor's iconoclastic life. His passion for ice cream began, in his mind, when he was five and dropped his cone on the boardwalk of an English seaside town. His father laughed. Not good.
His life winds along the path until Matt is in his 40s and in a rehab center. In a moment inspired by One Flew Over the Cuckoo's Nest, Matt inspired his fellow patients to lick their addition. Out of the institution, Matt was working an ice cream project, honing his gelato skills. For unknown reasons, well, pretty unknown, he was visited by Scotland Yard's Counter Terrorism Command. He still managed to open two ice cream stores, to stage outrageous ice cream "events" across London and the world, and now to write The Icecreamists.
This is not your usual ice cream book. Here, exaggeration, excess, and distinct layers of sex are merged in a book seemingly designed by Monty Python. It's far beyond quirky. It's also delicious, one page at a time.
If you buy only one ice cream book for your library this summer, this is the one. Book sections are devoted to:
Boutique Ice Creams
Sorbettos
Cocktail Ice Quakes, Sundaes and Desserts
Ice Pops
If you want something cold, and possibly alcoholic, then this book is for you. Consider these flavor ideas:
Alexander McCream: spiced pumpkin ice
Sex, Drugs and Choc 'n' Roll: aka Milk Chocolate Ice Cream
Gingiana Jones: Asian spiced ginger ice cream
Scarlett Fever: strawberry and cream
Born and Bred: soda bread and Irish stout ice cream [I'm not kidding. It's in the book!]
The Savory Chill: Earl Grey sorbetto
Dazed and Confused: blackberry and raspberry vodka sorbetto
Brainfreeze: watermelon and vodka sorbetto
The Omerta: a cocktail with pistachio ice cream combined with apricot brandy and spices
Molotoffee Cocktail: caramel ice cream topped with crème de banana and layered with egg whites that are blowtorched [You can drink this, photograph it, or simply worship it!]
The Icecreamists is wonderfully photographed. No written description can convey what it's going to look like. The layers, toppings, and blowtorch extensions here have to be seen to be believed.
But, one simply taste and you will believe.
Look for, buy a copy, and enjoy a lick from The Icecreamists.
Source: The Icecreamists by Matt O'Conner