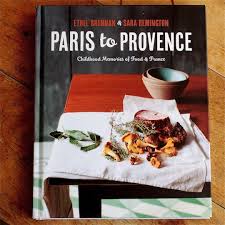 It's awkward to come clean in public, but I have a problem. I travel to France with grand intentions, flying to Paris loaded with guidebooks about things to do throughout the country. To do, that is, after just a couple of days in Paris. A couple of days becomes a few days becomes two weeks.
I'm a Left Bank guy and between the bookstores, the cafes, and the ever expanding list of bakeries and candy stores, I find it very, very hard to think about leaving the city for the rest of the country.
Now, I have a new guidebook, one that I know will get me free of the food evils of Paris and into the delicacies of the byways from Paris to Provence. That is exactly the title: Paris to Provence by Ethel Brennan and Sara Remington. The subtitle gives away the clever tact of this lovely book: Childhood Memories of Food and France.
Ethel and Sara did not grow up together, but became friends in adulthood. And learned they have a shared tradition. As young girls, they lived in families that summered in France and explored and sampled the entire country, not just Paris.
Their families drove the back roads and byways of France. And the girls enjoyed the "casual" food of everyday France. This is not the high cuisine of Right Bank restaurants. This is the food of the people. But, oh, what lucky people. For casual food in France is a treasure trove.
There are chapters here devoted to the food of truck stops, the regional and very seasonal markets, café and bistros, plus afternoon snacks [gouter].
The book is a charming combination of travel remembrances and a portfolio of real, authentic recipes. Some of the recipes are standards, like Ratatouille. But there are unexpected exotics here, too, like Beignets de Fleurs de Courgettes [aka Zucchini Blossom Fritters]. There is a fig tart with custard cream, strawberries in red wine syrup, roasted chestnuts, French lemonade with mint, and potato salad with poached egg.
That last recipe idea is typical of Paris to Provence. A common dish is given an uncommon twist or flare. You'll find yourself asking: "Why didn't I ever think of that?" Well, we can't think of every combination. We can rely on the great food cultures to instruct us. Paris to Provence gives us a superior tour of insights into the flavor avenues of a country we all enjoy.
On my next flight to Paris, Paris to Provence is coming along. And, yes, I will rent a damn car and I brave the interesting traffic patterns of French roads. Why? Because somewhere south of the city there is a roast pork loin with rosemary and porcini mushrooms. I'm going to find it.