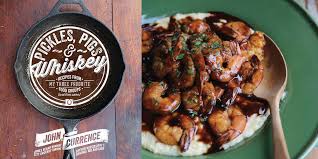 Living in New York City, and with a wife who runs the boutique cooking school Cooking by the Book, I am inclined to view the city as the food capital of the world. For her events here, Suzen has a daily parade of ingredients from the best purveyors in the city. Yesterday, the menu was Thai and we had papaya all over our counters. Tonight, it's Italian and there are bags of pasty awaiting their fate in boiling water.
Now, other cities do come to mind as food capitals. Paris, of course. Tokyo. Shanghai. Oxford, Mississippi.
Oh, yes, Oxford. After all, that is where John Currence, a James Beard Award winning chef, has created a network of four restaurants over the past 20 years: Snackbar, Lamar Lunge, Big Bad Breakfast, and Boure. It's American food, Southern food and world-class food.
John has now taken to print with Pickles, Pigs and Whiskey. His nominees for the three food groups that count. Suzen and I are fortunate to receive new cookbooks every week. We love the surprises that greet us from these new pages, and we do go through each book pages by page. Stickies edge out from the margin as mark the 5 or 10 or 20 ideas that seem wonderful.
Once in a while, you get a book like Pickles, Pigs and Whiskey. A book where just about every one of the 130+ recipes deserves that sticky that says, "Try me. Try me now." If you are bored with your cooking, if you want something new, really new, spectacularly new, then this book is for you. New ideas, new concepts, and new treats page by page.
I think John would love to cook with me and Suzen. His Manifesto at the start says that cooking should being with three things:
Mood: enjoy yourself
Beverage: cook with drink in hand
Music: let the air be filled with both notes and aromas
And John does tend to be outspoken. He tells you to only cook with the best ingredients, such as homemade bread. Or, as John puts it: "Our crap food is killing us."
This is the definitive anti-crap cookbook. The titles alone entice, as you'll see in examples below.
Most importantly, this is a Sunday afternoon cookbook. The recipes are not "1-2-3" simple, the ingredient list can be long, and John can suggest that things take time. You might be able to make good food fast. But great food takes time. This book is filled with great recipes.
For example, his Deadliest Sin Champagne Punch include a Citrus Strawberry Shrub as one of the ingredients. That book title says Pickles, so here you will fine ideas for soy-pickled shiitakes and pickled grapes. You can make your own Worcestershire sauce, with 17 ingredients including jalapeno and tamarind paste.
There's duck comfit with peach relish and coco-cola brined fried chicken thighs. It's a Southern cookbook, so you do find fried catfish, but topped with roasted jalapeno tartar sauce. You can mate that with Peanut Butter Cake.
You've probably had Bananas Foster. You've never had Bananas Foster Bread Pudding with Brown Sugar-Rum Sauce and Candied Pecan "Soil" made with pecans, brown sugar, cayenne, and paprika.
This is a book you want to own, read, savor and find delight in. It's the perfect example that there are no bounds to culinary imagination and excellence.