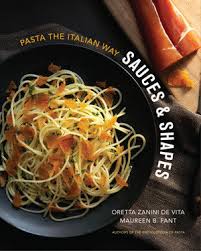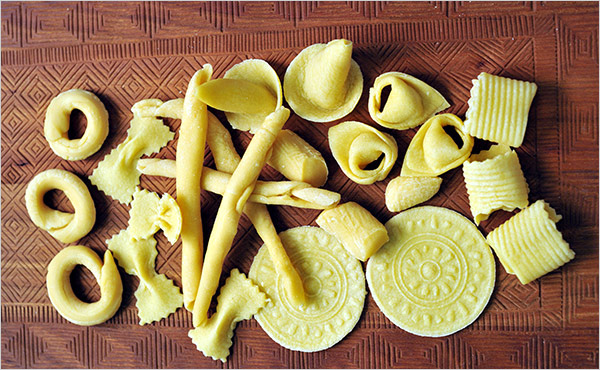 An exceptional event, a great event, is by definition rare and important. There is an exceptional author/translator team of Oretta Zanini de Vita and Maureen B. Fant. And they have released their second monumental work: Sauces and Shapes — Pasta the Italian Way.
Five years ago, this team produced the Encyclopedia of Pasta, a detailed survey and history of 300 pasta shapes from every region of Italy. This new book, Sauces and Shapes, is the natural and lovely extension of the widely praised Encyclopedia. Here, 50+ examples of those 300 pastas are presented, with specific fillings, each meticulously chosen for regional authenticity.
The heart of this book though are the 150 recipes for sauces and soups to serve, again with regionally correct pasta shapes and textures.
Why soup? Well, the answer is presented in Sauces and Shapes and was first explored in the Encyclopedia. If I say "Italy" you think of a modern country, with a rich infrastructure of industry and fashion and food. We all have a positive image of Italy. And do does Oretta, a native of Bologna and now in her 8th decade of exploring Italian food. She has documented the true role of pasta since its creation around 800AD [yes, before Marco Polo]. Italy has actually been a very poor country, with a landscape permeated by mountains, little arable land, and very poor transportation network.
Yes, pasta has been around for 1300 years. But pasta was, until very recently, a luxury for most Italians. Pasta was eaten few times a year and often in soup where the available supply could literally be stretched to meet the needs of Italian families, both rural and urban.
As a treasure, Italians have evolved their regional sauces to adorn their very precious pasta. Regional? Yes, in fact Oretta has found the "same" pasta with different names with nuanced differences in, not just neighboring cities, but literally in adjoining neighborhoods. You can travel a quarter mile and discover that two kitchens have distinctly varying versions of the "same" dish. Naturally, the rival kitchens will claim they are the first and best. These culinary disputes are ones that, with the history so foggy and personal preferences so strong, can never be decided. You can never find "the" pasta. The world of pasta is ever evolving.
To create her books, Oretta has journeyed for years across Italy. Cities, village and byways have been investigated. People, to be truthful elderly people, have been interviewed by the score to mine their memories. And to secure the recipes.
The 100+ sauce recipes here make Sauces and Shapes the definitive work. If your cookbook library has to be 10 books or less, this book has to be one of those 10. It's that important.
The presentation of the sauce recipes is a masterpiece of organization. The recipes are grouped so that you the perfect "go to" resource to find just what you want:
[1] Last Minute Sauces
Fish and Meat
Meatless and Fishless
Mainly Cheese
[2] Fresh Vegetable, Herb and Mushroom Sauces
Uncooked
Cooked
Without Tomatoes
[3] Fish and Seafood Sauces
Fins
Shells and Tentacles
Mixes
[4] Meat Sauces
Fowl and Rabbit
Ground Meat and Small Cuts
Ribs and Sausage
Large Cuts
Game
With this structure, you'll find yourself with the sauce you need in seconds. Or, if you are like Suzen and me, you'll find that an hour has passed as you bounce from one recipe to another. Making a final decision is not easy but not impossible. There is always another Sunday night and another dish of pasta to be served.
Each sauce recipe comes with a background story representing Oretta's productive research. The shapes of pasta normally used with the sauce are discussed — although in truth it is merely tradition and not culinary necessity that has created these matings. The ingredients and preparation complete the package.
There are color photos and dozens of lovely line drawings to inspire you. The list of ingredients is typically short. The instructions are easy. The results? The subtitle for the book is Pasta the Italian Way. Try any of these recipes and you will find yourself transported figuratively to Italy.
Sauces and Shapes is indispensable. And irresistible. You are sure to treasure the history and recipes so lovely researched and presented in this exceptional book.
Photo Credit: The New York Times