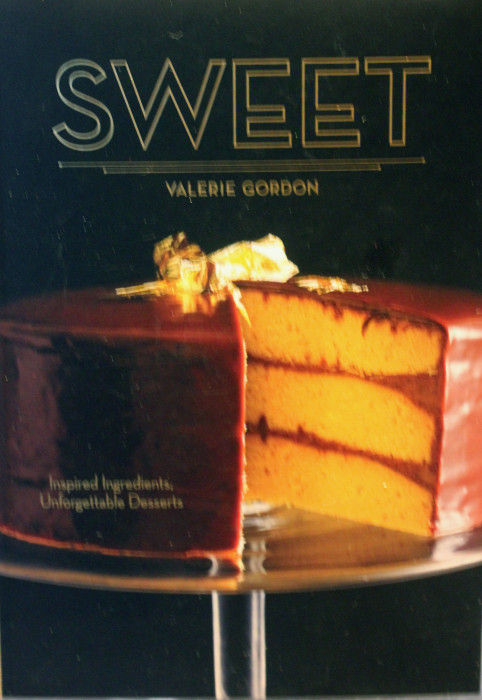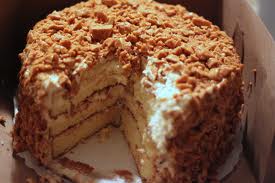 Author Valerie Gordon's earliest memories include taking baked goods on a family visit to business associates. By the time she was in the third grade, she had developed what she bravely admits was a "serious baking habit." Today, she oversees a Los Angeles empire of sweet shops devoted to pleasing those who dine in. And pleasing those who carry her sweet goods out for visits to family or business or whomever is lucky enough to be showered with her exceptional creations. Some people just buy for themselves.
Her book, Sweet, is filled with ideas for gifts and for that personal enjoyment. The cover, as you can see, is black and gold. And this book is just that, gold. Well, more exactly, it is the perfect goldilocks book. You remember the fairy tale? Some things were not quite enough, some were too much, and then there was the one thing that was just right.
Sweet is the just right baking book for you. That makes it an important book for you to consider. Baking books come in three categories:
The good but low key type where the "high end" dessert is an exotic brownie
The exceptional but high end book, typically by someone from Paris, whose creations are astonishing and quite beyond your reach [and mine]
The rare but wonderful goldilocks book, one that will raise your skills and let you succeed in fashioning something exceptional.
Sweet is just that book. Valerie begins with a series of her historic recreations, dessert recipes from now shuttered institutions that offered American baking classics. That smaller picture above is for one of the gem recipes in Sweet: Blum's Coffee Crunch Cake. A chiffon cake — like angel food but made with oil, an historical marker on its own — is layered and frosted with coffee whipped cream. The ensemble is then studded with fragments of coffee crunch candy. The cake is legendary. And you have to make it and then eat it. Right now.
The Blum's cake is one of the first recipes in Sweet. The last recipe in the book is Tangerine Sour Cream Pound Cake, one of Valerie's creations, not yet listed as historic but perhaps destined to be. In between the first and last recipes, the book is divided into sections for celebration desserts like Blum's, every day cakes, pies and tarts, chocolates and confections, spoon able desserts, cookies and bars, and jams and marmalades.
While my first tendency would be to call this a baking book, that would be wrong. Those candy and jam chapters make this a comprehensive dessert resource. Brownies are included here, I should acknowledge, but why would you settle for mere browniedom when you can select from seriously wonderful concepts like:
Apple and Caramel Aged Gouda Crostata
Apricot Basil cream Galettes
Blueberry Vanilla Cream Hand Pies
Bullocks Wilshire Coconut Cream Pie
Chasen's Banana Shortcake
Cucumber Lime and Mint Sorbet
Single Malt Scotch Truffles
White Nectarine and Lemon Verbena Jam
Sweet has been published in an over-sized format which makes the full page photos by Peden + Munk even more gallantly compelling. There is a Hazelnut Cake covered in shiny dark chocolate ganache that seems ready to ooze out of the page and onto my waiting fingertips. It makes me want to say, "Suzen, there's something I have to show you." I can pretty much assume that the picture will convince my wife this must be the dessert for our next dinner party.
Although, I should counter myself, Nora Ephron has called that Blum's Cake the "greatest cake in history." That may be the one modest drawback to Sweet: where do you begin? The answer is that with this book, any page you select is a gateway to success and enjoyment. Extravagant enjoyment.
Sweet is a book that will entertain and educate you. It was written for you, the typical cook. You don't have to be a Parisian trained pastry chef to use this book. But you'll have fantasies of being one.