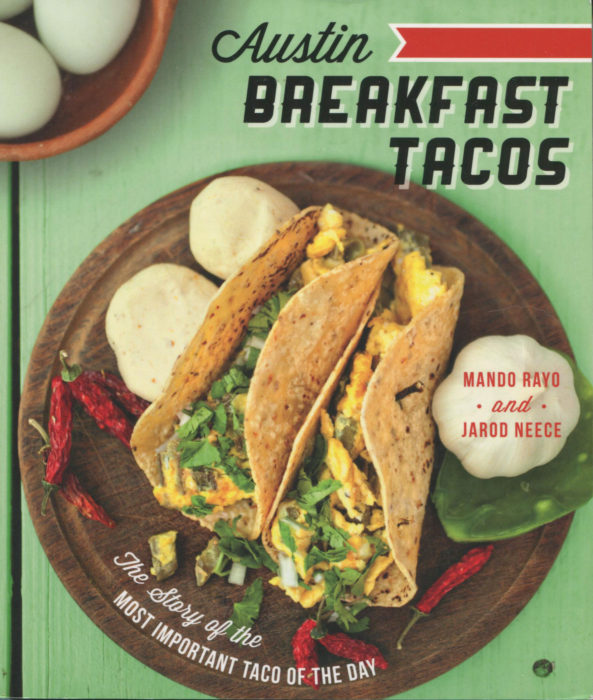 In the 70's I lived in Southern California. For every McDonalds, there were two Taco Bells. I would never do the Golden Arches for breakfast, but, hell yes, I was always at Taco Bell in mid-morning. I would skip official breakfast and dive for an early lunch. Two $1 tacos, a few packets of hot sauce, and a big Pepsi.
And it was damn good.
Life changes. There are fewer Taco Bells in Manhattan. And for the past twenty years I've been going to visit family in Austin, two or three times a year. Austin bills itself as the Breakfast Taco Capital of the country. Maybe the world. It is.
This little book is replete with the history, the lore and thankfully the recipes of the breakfast taco world of Austin. Chefs and chef-followers appear here, giving their stories, listing their favorite spots and telling us why breakfast really can be the most important meal of the day.
Central to many of the recipes is migas. Ever economical, the restaurants and trailers that have folks flocking each morning offer up contents that include yesterday's tortillas. You grind them up and add them to the mix that goes into the fresh taco shells brimming with heat each day.
There are dozens of tacos spots in Austin, each with a devoted following, each with their own specialties. Besides the migas, the ingredients can include:
Eggs in all forms
Sausage
Bacon
Lettuce and tomato and onion
Peppers in all varieties, chopped, or diced or cooked
Beans
Cheese
Lime juice
Garlic
Spices of every nature
Pulled pork
Steak
Shrimp and catfish and other stuff that swims
All that in one breakfast bomb? No, not quite. Some of the ideas here are quite simple, some vegetarian, some even vegan. Some will remind of style of Taco Bell but with much better flavor and surely much better style.
I think if you open this book, you won't be able to put it down. It'll be a breakfast companion for days and months and years. And, if you ever get to visit Austin, it is a guide to the best damn breakfast food you'll ever find.
Well, I do accept that Austin is tied with Paris. That's fine. A taco one day, a croissant the next. I believe in a balanced diet.