And the most famous hotel in the world is …?
People will answer with one of perhaps one of 10 or 20 likely choices. The Plaza, The Ritz, Raffles, … And very often Claridge's in London will be mentioned with earnest devotion.
Founded in the 1850s, Claridge's immediately soared to prominence. In the early 20th Century, the hotel was remodeled and is now a temple to Art Deco. It remains "the place" for a London breakfast. Or lunch. Or dinner. Or an overnight stay when you want to experience luxury, London-style.
Along with the architecture and service, the hotel is famed for its food. It's very elegant and supremely perfect food. Now Claridge's own Chef Martyn Nail and writer Meredith Erikson share the gift of this cookbook. It is simply stunning. As perfect a book can be in documenting the wonders of a world-class kitchen.
Ah, that's the angle here. This is not an ordinary cookbook, for Claridge's does not serve ordinary food. Consider this Roast Beef Sandwich: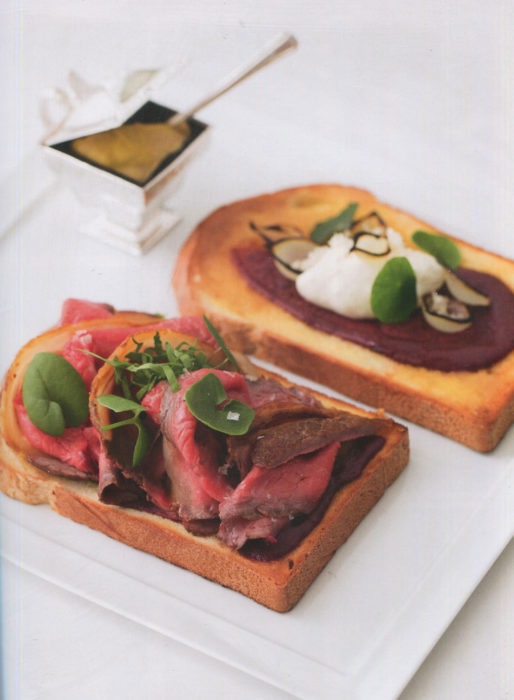 Those are brioche slices along with horseradish crème and Bordelaise butter and crispy shallots.
Or there is this Salmon en Croute: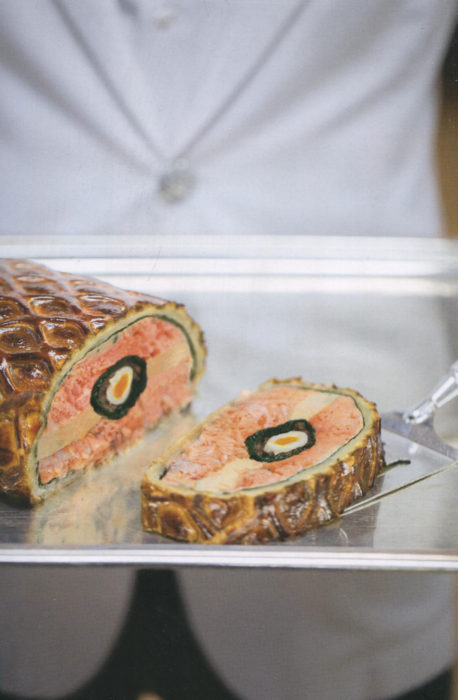 That is salmon mousse, mushroom duxelles, quail egg and spinach roll, fortified with champagne sauce.
This book strives to both document the treasures of the hotel's kitchen and gives you a fighting chance to duplicate the dishes at home. I say fighting chance because the book is totally honest. The Chicken Pot Pie at Claridge's is world famous because of the two-day chicken stock that is employed. The recipe here acknowledges that in your home kitchen you don't have a 7 X 24 kitchen staff. But, they give you a recipe for stock that will let you make the best pot pie you have ever experienced.
The first recipe in the book is for croissants. And it begins with the note that "This is a 3-day recipe." The final results in each of these recipes are superb. The journey to that quality, well, that will take you a bit of time. They serve 70,000 breakfasts a year at Claridge's, open over 43,000 bottles of champagne, and squeeze 300,000 oranges. It's an industrial scale kitchen that prides itself on perfect food, every dish, every day.
The book has dazzling photographs, as you've seen earlier. The recipe instructions often span a page or two with a dozen tidy paragraphs giving you each step. Yes, some assembly is required, but there is that nirvana in that final dish. Happily, the recipes are written with clarity and precision. So, "yes, you can" is surely motto for this book. Work with these recipes, and you will become a much more confident and accomplished home cook. Plus there will be the delight of enjoying these refined and perfected recipes.
There is so much information here, so much detail, that you'll want to pace yourself. Try a recipe a month. Go slow. Follow all the steps. And, when you have completed your dish, relish your accomplishment. If you are a foodie of any sort, then let Claridge's find a place in your kitchen. And surely in your heart.
Oh, where are Suzen and I going to start? It's a British book. You cook a British Recipe. Here's the Game Pie: