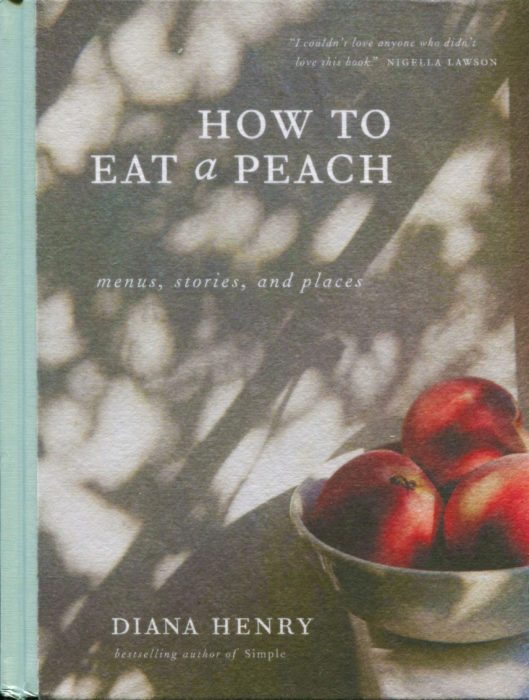 Any book by Diana Henry is one you want to add to your kitchen library. This prolific British author is famed for her distinctive recipes featuring ideas, ingredients, and techniques from around the world. London is truly a culinary capital with stores offering ingredients from every continent. Diana seems to know every market on every street and maintains multiple pantries, stocked to let her tackle any idea that zips into her creative mind.
And the ideas happily burst onto the pages here for us. Diana began her culinary career at sixteen by creating menus for dinner parties. Today, she says, creating a menu is her favorite part of cooking. First comes the menu for a dinner party and then she decides who to invite, who might enjoy her exceptional meal.
This is certainly a cookbook but it is more: it is a menu cookbook. There are twenty-five menus here, twelve for Spring and Summer and thirteen for Autumn and Winter. I will say I have read the menus and already I can see myself doing a little mix and matching here. I mean, the Autumn and Winter section offers an homage to New York: a Missing New York menu that is pure Manhattan:
Oysters with Mignonette

Hanger Steak with Roast Beets and Horseradish Cream

Manhattan Creams with Citrus Caramel
I don't want to wait six months for that horseradish cream
The menus span both the season and the globe. A sample of menus includes:
My Spanish Cupboard
Take Me Back to Istanbul
How to Eat a Peach [the Italian solution to hot weather: dip peaches in wine]
I Can Never Resist Pumpkins
Drunk on Olive Oil
Drunk on Olive Oil? Well, those menu items are surely olive oil based:
Crostini with Lardo, Chestnuts and Truffle Honey

Tonno del Chianti [not tuna at all but pork shoulder!]

White Beans with Red Onions, Parsley and Lemon

Chocolate and Olive Oil Cake
It has always been fun to read a Diana Henry book and ponder "how would I use that recipe." Now, Diana takes us by the hand, bunches the recipes into groups of three or four and announces: "Do it this way."
There is no better advice.
In true Diana style, the recipes are meticulously presented. Clearly written and designed for the home cook, there is nothing here that you cannot do.
Of course, these are recipes of culinary substance. Expect to spend a half hour or more for the typical dish and do make sure your pantry is well stocked. Diana loves those "little ingredients" you may not ordinarily stock: gelatin leaves, hard cider, truffles, or pomegranate seeds. A quick visit to your local market — for nothing here is that exceptional — and you are Diana-Henry-ready. It's just where you want to be.