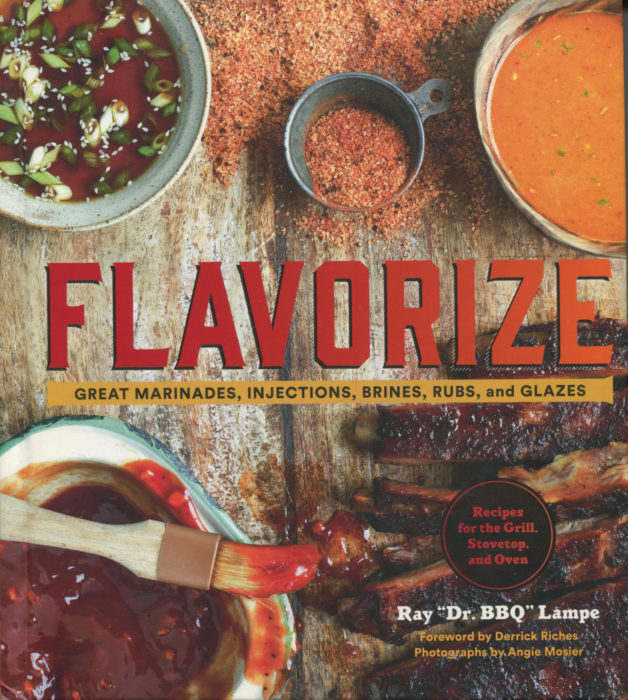 By now you may have dusted off your barbeque, filled up that tank or bought a new bag of charcoal. It's time to grill.
I missed this book when it came out in 2015 but it's sitting atop my grill now. Author Ray "Dr. BBQ" Lampe has written several books and many articles in his twenty years of professional barbequing. This book is devoted to those things we do to add flavor before or during the cooking process:
Marinades
Injections
Brines
Rubs
Glazes
Each of these techniques gets its own chapter beginning with a basic recipe, say for a brine, and then multiple options with matching recipes. Let's look at Brines. The basic brine recipe is 4 cups of water, ¼ cup of sugar, and ¼ cup of salt. You'll be interested in the options that follow:
Sweet Swine Brine with onion, garlic and pepper applied to Tasty Fried Pork Chops

Maple Brine with cinnamon and nutmeg for Maple-Brined Pork Chops

Cranberry Brine for Holiday Pork Roast

Lemon-Pepper Quicky Brine for Broiled Chicken Breasts
As you can see, the very specific recipes for flavor acceleration are all matched with the perfect protein for application. Other recipes awaiting you in Flavorize include:
Pineapple Teriyaki Pork Chops

Jalapeno-Buttermilk Marinade for Fried Chicken Breasts

Coke-Soaked Rib Eyes [yes, coke + soy sauce!]

Spicy Grilled Shrimp with Bourbon Street Marinade
The recipe ideas here come from all around the planet. Texas, of course, and the Southwest but also Europe and Asia. It turns out that mankind all shares one grand passion: to accelerate the flavors of their proteins. Flavorize presents you with flavor options you'll be delighted to try and enjoy. Bite by bite. Consider Flavorize to step up your summer grilling. You'll be thrilled.