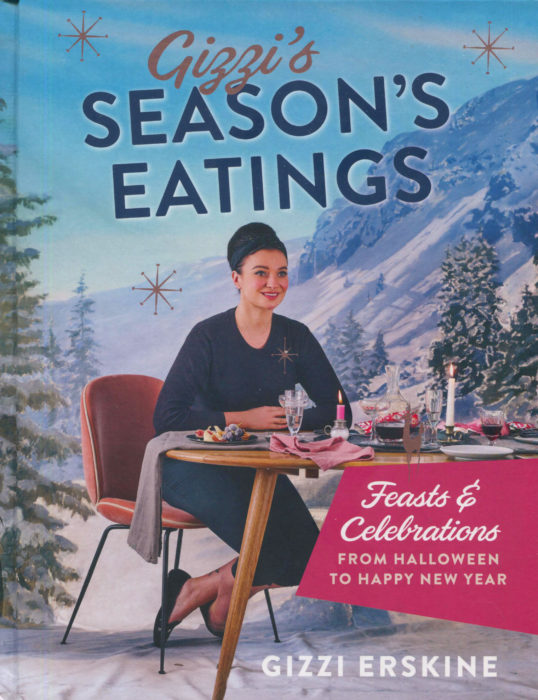 You've had this experience. You arrive at an upscale restaurant with a reservation. Your table is at the far end of the room. The hostess takes you on that long excursion towards the back, and you wind your way past one table after another. You notice the food, the aroma, the color, the presentation on the plate. You want to snatch up a bite of that pasta, grab a pork chop, or dip into the whipped cream on one of the desserts. It's not quite torture, but you are really thankful when the menu is in your hands and you can order everything. Everything.
Flipping through the pages of Gizzi's Season's Eatings you will have this same experience. This is one of the most beautifully photographed cookbooks you will ever see. The photos are rich and dense in holiday colors: the deep reds and greens of Christmas, the browns of Thanksgiving, … It's visually stunning.
And then you pass from the photos to the recipes and the power of this book is reinforced. Gizzi Erskine has a portfolio of a half dozen cookbooks, many stints on British TV and collaborates with wonderful food artists like Jamie Oliver and John Whaite. Her natural talent is simply amplified by a career devoted to quality.
Holidays in Great Britain are worshipped just as they are here. This book is devoted to the fall and winter holidays we experience from Halloween through New Year. These days of celebration need grand food and it appears here page after page. Holiday recipes are offered for:
Halloween
Guy Fawkes Day
Thanksgiving
Christmas Eve
Christmas Day
Festive Baking for All the Days
Guy Fawkes is a British version of the Fourth of July, complete with fireworks. We should probably adopt it here. We surely want some of the Guy Fawkes food:
Venison Osso Bucco Stew

Sausage, Tomato, Preserved Lemon, Caper and Olive Casserole

Cheddar, Onion and Potato Hand Pie [big, big hand pie]
In America, Christmas Eve is that agonizing wait until you open the presents, or at least just one. In Britain, it's a time for great food, heavy on the fish:
Whole Baked Salmon with Bright Green Parsley Sauce

Smoke-Roasted Treacle-Cured Salmon

Coriander, Chili and Lime-Cured Salmon

Sage, Parmesan and Lemon Veal Milanese
While on Christmas, the table could be laden with:
Wet-Brined Spiced Turkey [cloves, allspice, anise, cinnamon, peppercorns, bay leaves, rosemary, thyme, garlic]

Roast Goose with Chestnut, Apple and Prune Stuffing

Braised Sour Red Cabbage

Clementine and Ginger Trifle
Leftovers? You might try:
Sweet Potato, Sprout and Sweetcorn Hash [you can add that leftover turkey]

Turkey Curry

Turkey Mole Enchiladas
The British Empire is not quite the power it once was. But the heritage of world cuisines are present in these recipes. There are offerings from around the world here sitting next to classics like roast beef. It's like being back in that overwhelming restaurant. So many ideas. Too many for one year's holidays. But then Gizzi's Season's Eatings will be with you each and every year.