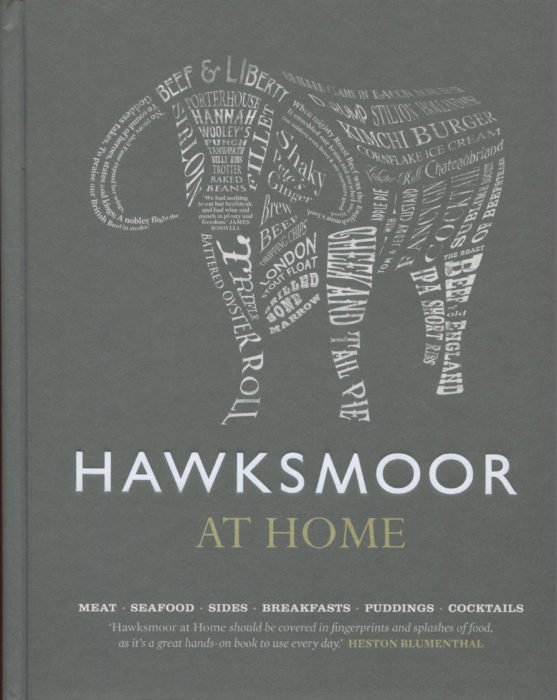 Hawksmoor is considered the best steakhouse in the UK. There are good reasons to believe that claim is entirely true. The evidence unfolds in the chapters and details of this important book.
I discovered this book because one of the authors is Richard Turner who has also written Prime and Hog, two books reviewed here in the past two years. In Hawksmoor at Home Richard is teamed with Huw Gott and Will Beckett to write the definitive steakhouse cookbook.
The recipes are appropriately organized into chapters for:
Meat
Seafood
Sides
Cheese
Breakfast and Brunch
Puddings
Cocktails
Wine
Well, that "appropriate" organization is for a steakhouse, a most British steakhouse.
The Meat chapter is a hundred pages long and half of that is devoted to the history of beef in Britain, types of cattle, the appropriate slaughtering of animals, and the chemistry of cooking meat to get the Maillard chemical reaction and the umami flavor that captivates us.
The first meat recipes are, happily, for burgers and chile cheese dogs, but there is prime rib there eventually. Beyond beef, you'll find very British recipes like:
Grilled Lamb Chops with Mint and Caper Sauce

Roast Chicken with Bacon Scotch Eggs [pictured below]
Other recipes, featuring ingredients or combinations Americans might not recognize, including:
Grilled Clams in Bacon Bone Broth

Duck Fat Roast Potatoes

Salt-Baked Beets with Childwickbury Goat's Cheese

Sticky Toffee Pudding

Apple Pie with Tom and Jerry Custard

Poor Knights of Windsor: Brioche, Custard and Caramelized Apples

Marmalade Cocktail: jam, gin, Campari and lemon juice

London Stout Float: Guinness, vanilla ice cream, and blackberry syrup
Sometimes a British recipe can have a name that gives you no clue of what the devil it might be. That Poor Knights of Windsor dessert is a perfect example. Some "common" recipes, like apple pie, can be elevated with custard, but not just any custard. No, it's Tom and Jerry Custard.
The cheese chapter is a masterpiece. Here you have a restaurant team with decades of experience sampling and employing the complex array of British cheeses. And, now you get their recommendations for the very best selections to be teamed with meats or with veggies, like those salt-baked beets.
This is far more than a cookbook. It's a meat experience. Reading this serious book— and that might take you many hours of study — and you'll find yourself far better educated to select, to cook, and ultimately to enjoy your beef. Or any of the other perfected dishes appearing here.
The Hawksmoor group has announced that they will be opening a USA version in The World Trade Center in New York City in late 2017. I won't need that plane ticket now. And, in the meantime, I have this very interesting book. If you eat beef, it's worth a visit.