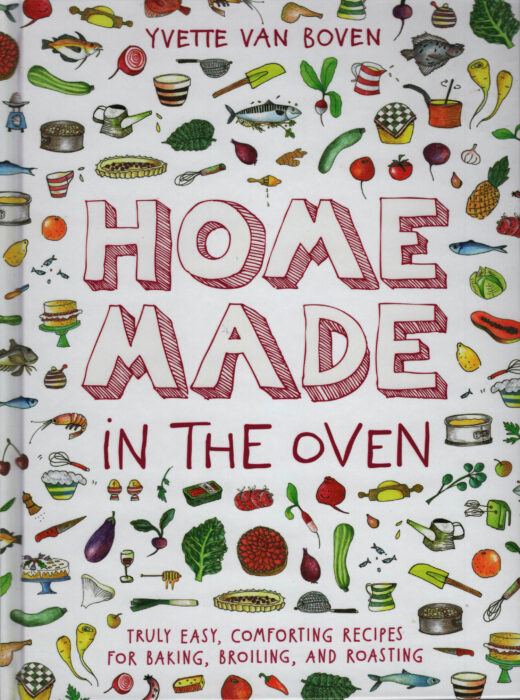 Anytime a book comes out from Yvette van Boven, there is just a trio of things to do: buy, read, and cook. Oh, yes, enjoy. Really, really enjoy.
Her previous books include Home Made Christmas, Home Made Winter, Home Made Summer, Home Baked and that original Home Made.
Now we have Home Made in the Oven. Yvette has "discovered" her oven. Her gas oven. No more convection oven for her. Just a big, plain oven that generates heat. Because heat creates change and flavor.
There are three sections to the book:
Vegetables
Fish and Meat
Baking
Now, if you know her books, you know she makes everything from apps to sides to mains to dessert. Although, I truly believe she does main courses only out of guilt. She's a dessert star as the recipes here in the book will convince you. Her dessert ideas include:
Plum Vlaai [a kind of tarte tatin]

Clementine Yogurt Cake

Baked Apple with Blueberries

Rhubarb Tatin

Peach Scone Pie

Blackberry Ricotta Cake

Financiers with Blueberries

Chocolate Nut Cake
Fruits and nut and berries are essential to her dessert ideas. Sometimes they have paired ingredients, like the nuts in the Chocolate Nut Cake. And sometimes she doubles down: Baked Apple with Blueberries. Yvette always leaves you, after eating her dessert, feeling like you have eaten something quite healthy. Well, that's how I feel. My God, it is fruit!
Okay, let's rollback to the beginning sections for Vegetables and Fish and Meat. Here her imagination is always on display. She's playful so you'll find combinations of ingredients designed to give you high-intensity satisfaction:
Cheese Onion Pie

Comforting Meatballs with Shrimp [and beef!]

Fish Pie with Steamed Leeks and Topped with Parmesan Mashed Potatoes

Dutch Meat Loaf with Mashed Potatoes [potatoes and meat mixed together, then baked]

Sweet Potato and Spinach Gratin

Twice-Baked Sweet Potatoes
This is comfort food, with sophistication and just enough complexity to make you admire the final outcome.
And the book has a twist. Of course, each recipe comes with a list of ingredients and instructions. But, there is also a matching cartoon. Yes, a cartoonish-picture that "shows" you the steps in the recipe. For example, here is the graphic for the Cheese Onion Pie: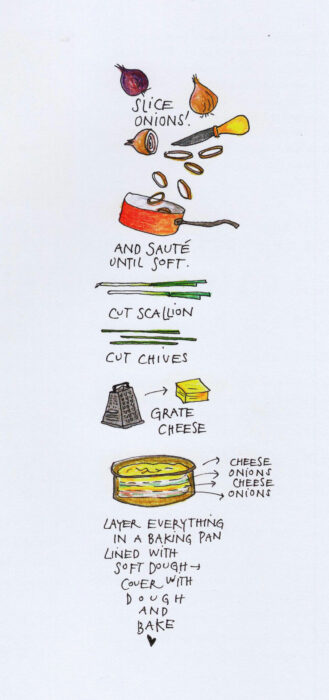 I have to admit, I can be a bit intimidated by recipes. I should read them completely at first, all the way to the end. But, I'm impatient and sometimes I just start and then get a little lost and sometimes really confused. And sometimes, … Well, that's what a frozen chicken potpie is for.
I will post today's recipe in just a few moments. It will, naturally, be for this Cheese Onion Pie. You are about to become an art connoisseur.