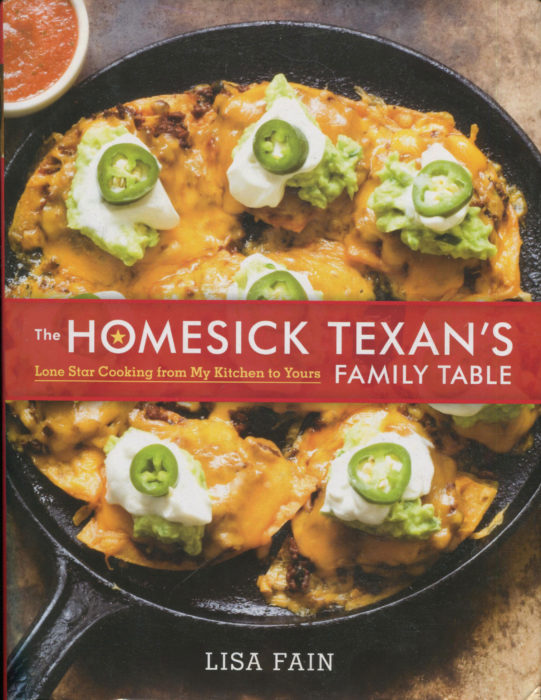 Once you have visited Lisa Fain's award-winning blog, www.homesicktexan.com, all you can do is bookmark it and return again and again to the delightful ideas and refreshing flavors. Three years ago she put many of her ideas into this essential cookbook: The Homesick Texans's Family Table.
Now, Lisa really is Texan and perhaps a tad homesick. She's a seventh generation Texan from Houston, but she's now ensconced in a New York City apartment with no room to barbecue. And that's why you'll find a recipe for Coffee-Chipotle Pork Chops. Turns out, there is more than one way to get a smoky flavor into your meat.
This is Texan food. Not French haute cuisine. The ideas here are bold and chili-forward. And, as the title indicates, this is home food, family food and, Good God, comfort food. You find temptations like:
Bacon Cheddar Chipotle Biscuits

Buttermilk Potato Soup with Bacon and Jalapeno

Chipotle Cheddar Scalloped Potatoes

Chipotle Chicken and Dumplings

Jalapeno Pesto Stuffed Pork Roast

Jalapeno Cram Gravy

Turkey Enchiladas with Sweet Potato-Chipotle Sauce.
Did I mention Lisa is fond of jalapenos and chipotles? She is. And if you are, then page after page the recipes here will sizzle.
Being from Houston, her Texan heritage includes seafood aplenty. We hear "Texas" and think of oil derricks and cattle and desert. But Texas has an enormous seacoast, a vibrant fishing tradition, and shares the ocean with Louisiana and all those Cajun influences. And with Mexico. So, you will find treats like:
Tuna with Avocado and Red Pepper Baked in Parchment

Fried-Oysters with Chipotle-Lime Dipping Sauce

Ancho Chile Shrimp Quesadilla

Sausage and Shrimp Jambalaya
If you enjoy your food on spicy side of the road, then take the highway offered by Lisa in The Homesick Texan's Family Table. You'll feel right at home.