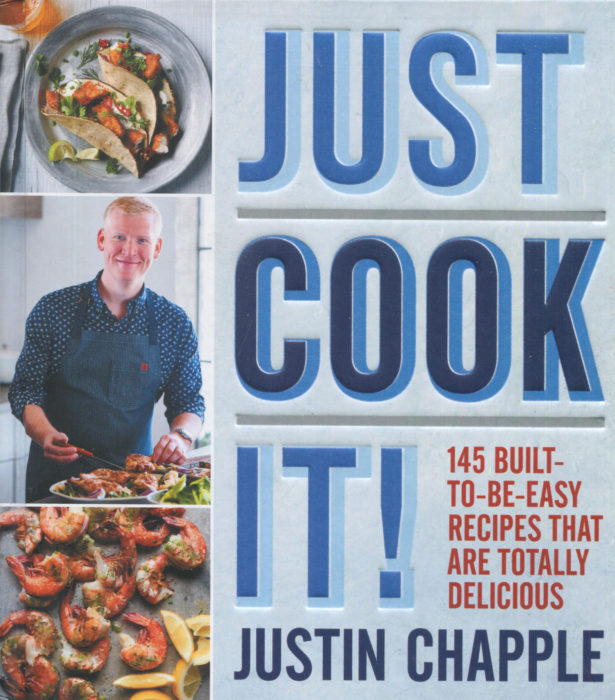 This new cookbook is the prototype for American cooking in the 21st century. It's filled with recipes that are interesting to your eye — and ultimately to nose and mouth — and that are clearly easy to prepare. This is a cookbook for the American home kitchen for busy families and active singles.
Just Cook It also reflects the diversity of our American culinary world. There are ideas here from far beyond our borders, and not just Mexico. Thai and Turkish, Northern African and Japanese dishes stroll among the pages. If you have relished Negamaki, then the recipe here will delight you. If your Japanese dining has not included this treat — scallions embedded in a thin roll of meat and served with a zippy sauce — then the time has come.
Author Justin Chapple grew up in the Central Valley of California. It was a modest family with lots of children and a refrigerator filled with the abundance of that valley. And, there was his grandmother who indulged in transforming "common" American fare into memorable creations with her special flair.
There is a Pickled Beet Dip with Yogurt and Horseradish that is Justin's tribute to his Grandma Barbara. Leaving California, Justin attended the French Culinary Institute in Manhattan, toiled in restaurants and has been the Deputy Test Kitchen Editor at Food and Wine. That means this: he is skilled as a chef, trained as an experimenter, and understands the need for clarity when transforming a kitchen creation to a recipe on paper. He's especially good at that translation piece.
There is an intensity of flavors and colors in the recipes. And a slant towards diverting from the ordinary. We all love meatballs. Italian, Swedish? Ah, his recipe is Turkish and beams pomegranate red. Don't believe me? Here's the photo: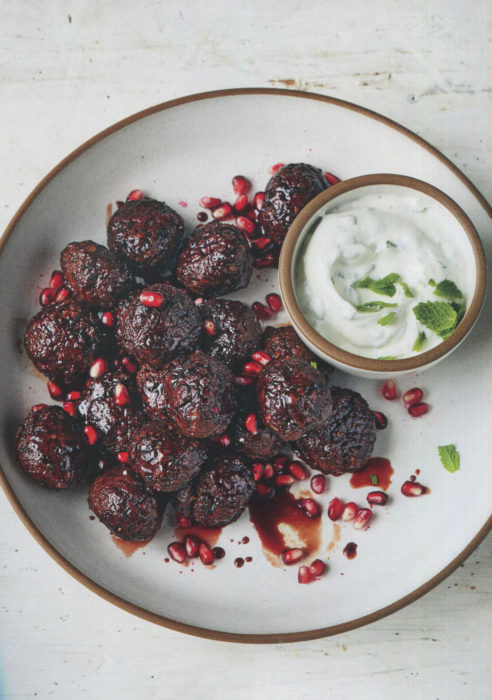 The only problem I see in this book is some confusion about where to start. There are dead simple ideas, chicken in panko crumbs, and then some more complicated ones like Fideos with Lamb Sausage, Chickpeas and Mint. Fideos are thin noodles usually found in the Spanish dish fideua. Here angel hair pasta is sautéed to achieve a toasty flavor, then combined with merguez sausage, onion, tomato sauce, chicken broth, farmers cheese, yogurt, and mint. The recipe is as fast as it is complex.
Chapters here span your daily needs:
Party Food and Snacks
Breakfast, Brunch and Other Eggy Things
Soup and Stews
Salads and Vegetables
Pasta and Grains
Seafood
Meat and Poultry
 Desserts and Sweet Stuff
Condiments and Sauces
There is a Faro and Black Bean Chili, so intense in color, that you'll pause at the picture. It's not quite meatless: there is some bacon. It's vitality surely comes, in part, from two canned chipotles with adobo sauce. Some carrot, onion, celery and even Swiss chard combine to complete the celebration.
Because he is a recipe developer, Justin has included some ideas here that will intrigue. He has a Strawberry-Lemon Quick Jam made in a saucepan. There a technique for Quick Pickled Grape Tomatoes. Even a risotto made quickly with no stirring — yes, I have wondered that such a thing is possible but this man is a professional experimenter. I have no questions at all about his French Toast Casserole with Caramelized Peaches. I just have to wait now for peach season.
There will be many ideas here that attract you and draw you into your kitchen. Why, the next time my wife is not around, I'm doing his Rocky Road Clusters made with melted chocolate, roasted nuts, and miniature marshmallows. It's one of those "guy thing" recipes that I don't think my wife Suzen would appreciate.
Or approve of.
You though will find many ideas there that you will appreciate, and approve, and return to over the years. This is a solid book designed to please us all. And please us it will. One Rocky Road Cluster at a time.