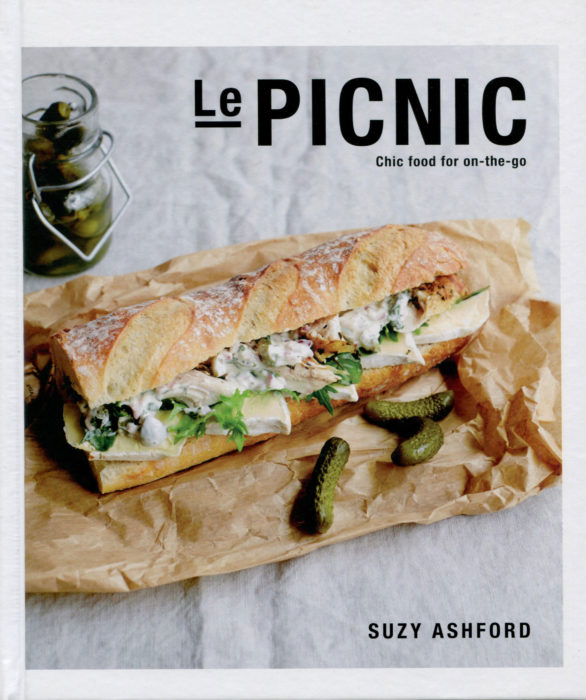 Ah, a perfect summer book. Author Suzy Ashford is Australian with a love for France. A self-taught chef and food writer, this first book presents her concepts for the ideal picnic on a day in Paris. Sunday in front of Notre Dame perhaps? Sitting on the banks of the Seine sipping wine and eating tartlets? Suzy says these recipes are "chic food for on-the-go." She's right: easy to prepare, delicious, and surely picnic portable.
The fifty recipe here are divided into chapters for:
Le Snack
Food for Sharing
Le Salade
Sweet Delights
La Drink
There are actually two kinds of recipes here, old friends mostly but with a sprinkling of very interesting and sophisticated new creations. Even the old friends, like Roast Chicken & Camembert Baguette, are presented here in fine-tuned fashion. The recipe here has mayo, cornichons, capers, onion, and parsley in precisely balanced proportions. It's comfort food to be sure. And we crave those comforts. But when it comes time to make some, how exactly do you do it so the dish you make fulfills all those fond memories? Well, the recipes in Le Picnic will make your dreams come true.
What are some of the old friends you'll find? Here's a sample:
Caramelized Onion and Goat's Cheese Tartlets

Chicken Liver Pate

Roast Provençal Chicken

Croque Monsieur

Salad Niçoise

Lemon Madeleines

Strawberry Tart with Orange Liqueur Crème Pâtissière
And the new ideas? Oh, my. This post closes with a picture of the Chocolate and Cointreau Mousse with Pistachio Praline. So beautiful, you will hesitate before eating. But eat you will.
Other sensational ideas here include:
Lamb and Potato Pies

Pork and Pistachio Terrine

Potato and Pumpkin Tourte
That tourte is puff pastry containing ham, shallots, garlic, sour cream, parsley chive, potatoes and pumpkin. It's summer now, and picnic time, but this dish is surely one to consider for your Thanksgiving Table. Maybe fall will be warm and you can eat outside! Warm or cold, inside or outside, the delights in Le Picnic will give you many meals to remember. And surely repeat.