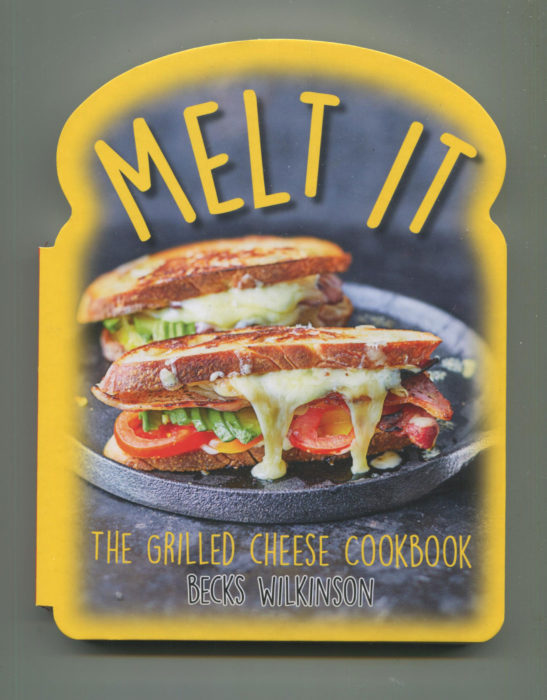 I have dreamed of finding this kind of book. Dreamed.
Let me tell you way. A dozen years ago, Suzi and I were in Milan. If you walk past the Cathedral on your left, past the Arcade, then turn left and go a few blocks into the university district, you will encounter a sandwich shop. You won't see it at first, but you will hear it — big crowds — and god knows you will smell it.
Our friends told us it was the most famous sandwich shop in Milan. The menu was enormous. Forty sandwiches. Fifty of them had melted cheese. There had to be sixty cheeses emitting aroma throughout the neighborhood as an armada of panini makers steamed away.
You think I exaggerate? I still dream about the place.
So when my copy of Melt It arrived, a new book shaped a like a slide of bread, my instincts arose. Could it? Would it?
This slim book provides thirty wildly imaginative melted cheese masterpieces. Nothing is simple. Nothing is not tall. Nothing is not gooey. If you like cheese, if you like sandwiches, then Melt It is as essential as that wedge of parmesan in your fridge.
The recipes are divided into Everyday and Special Occasion sections. Honestly, the Everyday ones are already spectacular. Here's a sample of the ideas:
The Classic with onion marmalade and sprigs of thyme

The Spanish Sensation with chorizo, quince paste and Manchego

The Hangover, a British breakfast idea with sausage, bacon, baked beans, harissa, mushrooms and gouda

The Peachy Keen offering roasted peaches, honey, ricotta and lavender

The Hipster complete with whipped goat cheese, roasted squash and kale

The Sugar Shake Stake, a tower of bacon, maple syrup and Cheddar layered among pancakes
The recipes are outrageous and you'll be thankful for the pictures. The Leaning Tower of Doughnuts, with strawberries and mascarpone and chocolate spread, really would test your architectural abilities. The picture makes it all so clear. And so delicious.
Tired of a simple grilled cheese sandwich? Go extravagant with Melt It. You probably will never do "ordinary" ever again. Yes, Melt It is a life changing book. One hot, gooey mouthful at a time. And you won't have to fly to Milan.