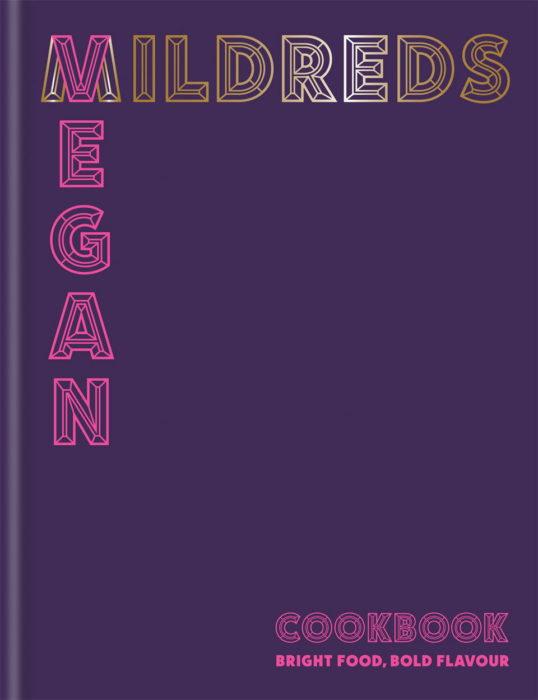 There is something for everyone in Mildreds Vegan. This new cookbook, by Daniel Acevedo and Sarah Wasserman, presents vegan recipes from the Mildreds chain of restaurant in London. If you are a vegan, then from appetizers to dessert, you'll find recipes using the ingredients, the soy milk and the tofu, that are essential to your culinary preference. These are recipes are carefully crafted, elevated in flavor and sure to please. Consider:
Buffalo-Marinated Tofu

Spiced Seitan Balls with Chickpeas and Black Kale

Southern Sweet Potato and Jalapeno Biscuits with Earl Grey Gravy and Maple-Grilled Mushrooms

Chocolate Beetroot Fudge Cake with Pink Coconut Cream and Candied Beetroot Slices
And for the rest of us? The ones who are not vegan or vegetarian? There's a bounty of recipes here that just happen to be absent protein or dairy. But they aren't absent flavor or sparkle at all. The subtitle of this book tells you all: Bright Food, Bright Flavor. You do get both in ideas like:
Brazilian Black Bean Soup with Raw Corn Salsa

Butternut Squash and Pistachio Borek [Turkish empanadas]

Roast Pumpkin with Savory Sage and Pumpkin Seed Granola

Tamarind-Glazed Beets with Baby Spinach, Salted Pistachios, and Soy Labneh [yogurt]

Ezme Salad [Turkish tomato salad]

Malaysian Red Curry with Toasted Macadamia Nuts and Mango
There's a whole chapter devoted to bowls — main courses prepared and served in one sumptuous container. The recipes span the globe:
Tokyo [black rice and teriyaki-marinated tofu]

Puebla [spiced black beans, quinoa, lime cream, corn salsa]

Kimchi [cabbage, tofu and peanut sauce]

Goa [the dahl recipe has a mere 21 ingredients!]
The beets are so glorious I'm posting that recipe tonight. Any great London restaurant is going to show some global influences. Here, ideas from the Middle East, from Latin America and Asia appear in sizzling photographs that will give you pause. And then give you a very sound reason to get your copy of Mildreds Vegan. It will be on store shelves on March 6 or you can preorder now. You might start shopping for beets, too.