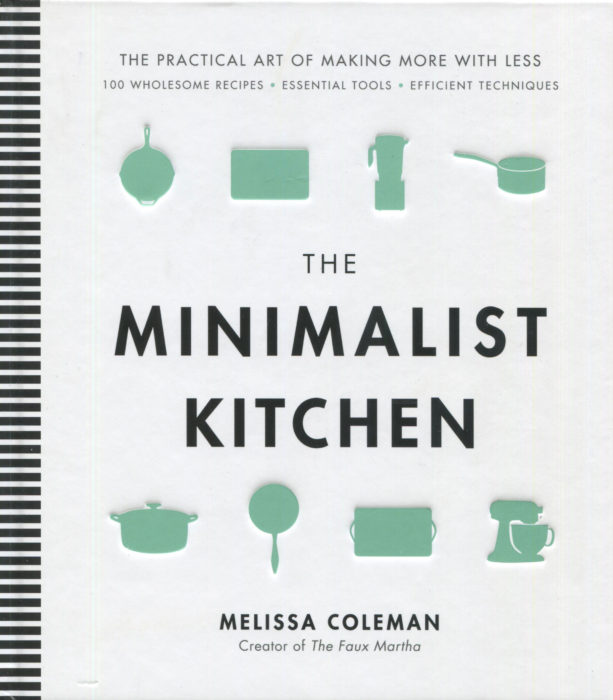 Melissa Coleman has earned great respect and praise for her lovely blog The Faux Martha. The accolades will continue with this book, a mix of blogged recipes and new ideas that capture the essence of her minimalist philosophy.
At first, when I saw the book's title, I was alert. Is this another 1-2-3 ingredient tome where in a mere 12 minutes you create a meal?
In a word, no. For Mellissa, "minimalist" really means focus. Yes, many of the recipes use only a few ingredients but the whole set of 100 charming ideas here will mean you need a kitchen pantry and refrigerator that pretty much resemble what you may already have. She uses a portfolio of over 100 ingredients including: soba noodles, pita chips, cacao nibs, agave nectar, chia seeds, balsamic vinegar, sesame oil, kalamata olives, bell peppers, cilantro, cotija, and edamame. You might consider those to be sophisticated ingredients. You are about to create exceptional flavors with them.
Often you can judge a book by its start and its end. The very first recipe in this book is Biscuits with Bourbon-Blueberry Quick Jam. Now, I struggle with jam. My wife struggles with jam. But we both like bourbon and blueberries and this jam will be the very first thing we make.
The second thing on our list is something "evil." She has a cookie, an unbaked cookie, Pantry Oatmeal Dough Bites. You make the dough, you freeze the dough, and you eat the dough balls. Melissa wants you to just skip that very unnecessary baking step. Heck, you were going to sample some dough anyway, right? So, just eat the dough.
This is my kind of book.
Whether you look at the ideas for breakfast or dinner or the sides or the drinks or the desserts, the ideas that flow here will strike a constant theme for you: maximize that final flavor. And she does achieve that that intensity with her robust minimalist approach. Take her Quinoa Chili. There is no meat here but you'll be thrilled with special flavors generated by some uncommon ingredients: cinnamon, and unsweetened cocoa powder. Besides the quinoa, you'll be adding both kidney and black beans to that quinoa, and spicing the batch up with a squeeze of Sriracha. Top with grated cheese and chopped cilantro and diced avocado, and the resulting dish is beautiful and delectable. Here's the proof in a picture: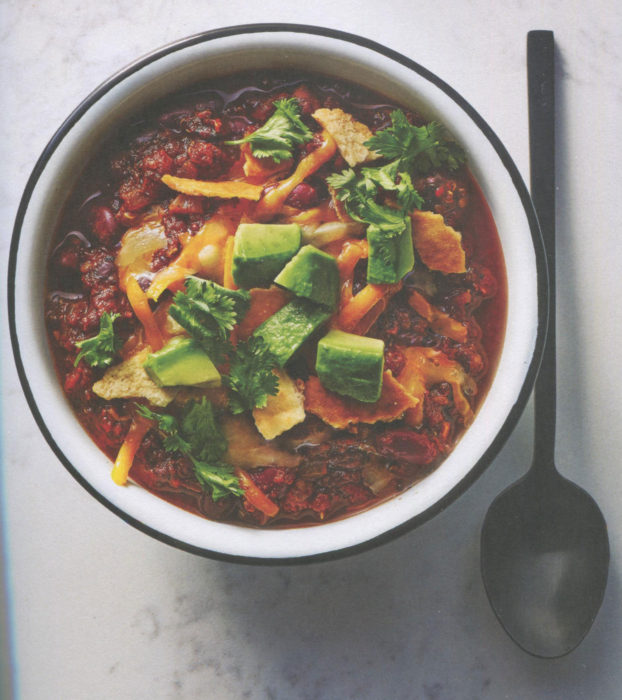 Here's a sample of other quality recipes Melissa offers you:
Blender Dutch Baby

Breakfast Chilaquiles with Homemade Ancho Sauce

BBQ Black Bean and Quick Slaw Tacos

Soba Bowls with Peanut Sauce

Chicken Tinga Tacos

Lentil Lettuce Wraps

Thai-Spiced Rice Bowls

Roasted Autumn Sweet Potato Salad

Watermelon-Lime Agua Fresca

Blueberry-Coconut Smoothie

Orange-Rhubarb Puff Pastry

Toasted Almond-Stone Fruit Cake
The book's title is The Minimalist Kitchen, but the story is that this is a maximum book. You could literally make this your primary cookbook for a year of exceptional home cooking. You'll eat very well, for the recipes are sophisticated in taste but easily followed. The Minimalist Kitchen is a gift that you want to embrace. And, yes, you can start with that cookie dough.