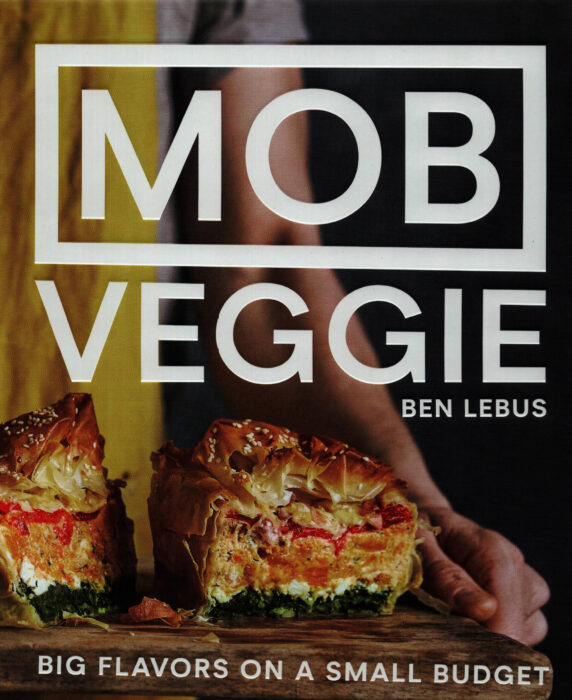 Ben Lebus has food in his blood. He grew up with a father who ran an Italian restaurant and learned cooking early in his life with intensity.
In college, Ben saw firsthand the challenges college students face in creating good meals on their own:
They don't have time
They don't have experience
They don't know to shop
They don't have the right tools to cook
Right out of college, Ben founded MOB Kitchen, at first a web-site and now an expanding corporation where you can find books and utensils. On the website, there are recipes and music — Ben knows the Zen of cooking improves with music, so he has favorite bands and even playlists.
Many of those recipes have been assembled in his second book Mob Veggie. I suggest you ignore the "veggie" part. These just happened to be veggie ideas. There is NO compromise on flavor or culinary delight. Anyone is going to be pleased with these dishes.
That pleasure is increased because this book emphasizes speed and low cost. The recipes here feed for under 20 bucks. You are not going to miss the meat. How could you when you have this Baked-Spiced Cauliflower with Tzatziki: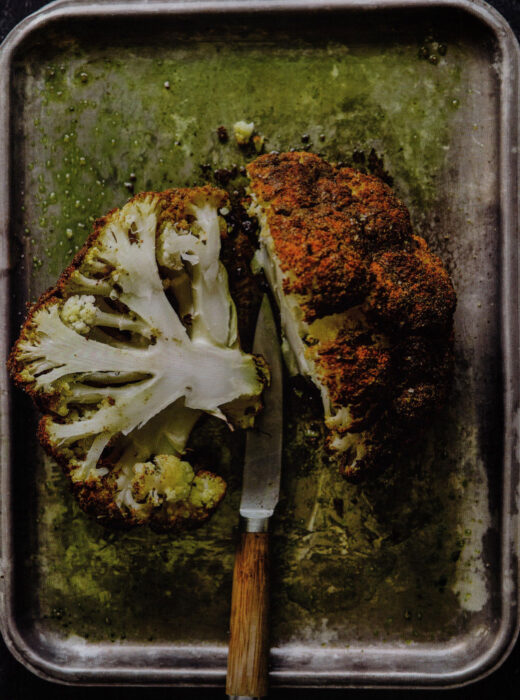 There are familiar ideas, like these Hasselback Potatoes with Peri-Peri Dressing and Feta [I never had cucumbers and potatoes in the same bite]: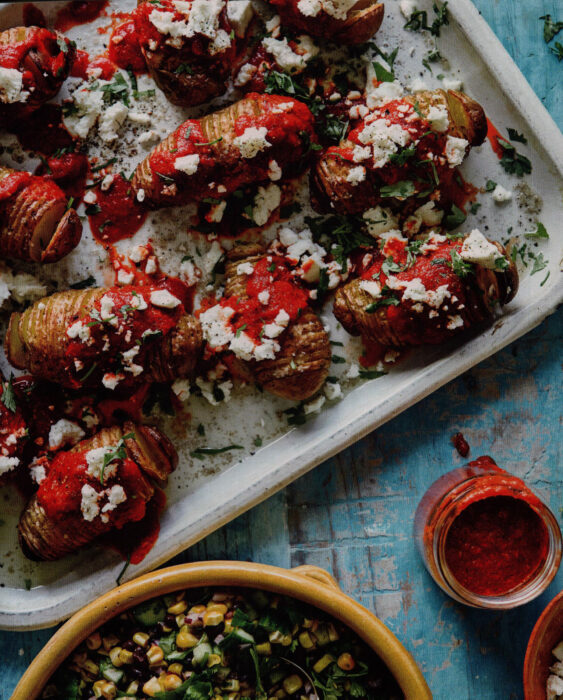 The recipes here, like those potatoes, are bright and intense. This is a book to bring you culinary enjoyment. On a budget. And in quick time.
There are six chapters here with ideas from breakfast to dinner, from easy to really, really easy. Let's take a quick tour with some of the best ideas on display for you.
Brunch Mob: Start Your Day
Spanish Tortilla

Butternut Squash Pancakes

Baked Feta, Cherry Tomato & Garlic Ciabatta.
Fresh Mob: Quick Ideas Packaged in Salads and Soups
Quinoa Salad with Green Lentil Hummus Base

Baba Ghanoush Pitas

Tomato and Roasted Pepper Summer Salad
Speedy MOB: The Fastest Ideas for Rapid Lunch and Dinner
Creamy Mushroom Gnocchi with Goat Cheese

Pumpkin Pasta

30-Minuted Peanut Red Thai Curry Bowl
Fuss MOB: One-Dish Meals for Easy Cleanup
Homemade Gazpacho

Silky Leek Risotto

Chickpea, Eggplant & Date Tagine
Flashy MOB: Show Off Recipes for Weekend Dinners
Miso-Glazed Sticky Eggplants with Sesame Rice

Fennel & Tomato Traybake with Gouda & Breadcrumb Topping

Loaded BBQ Sweet Potatoes with Tahini Dressing
Fakeout MOB: Veggie Recipes that Remind You of Conventional Fast Food
Big Boy Bhaji Burgers

Black Pepper Tofu

Roasted Pepper Mac 'n' Cheese with Paprika & Manchego
Now, you may be a year or two out of college. Or decades, like me. But we all need to eat, we all want something "new" and we can always use great ideas that are fast and economical. So, MOB Veggie may be addressed to college kids but all of can enjoy the satisfaction it advances. You are going to be very happy.