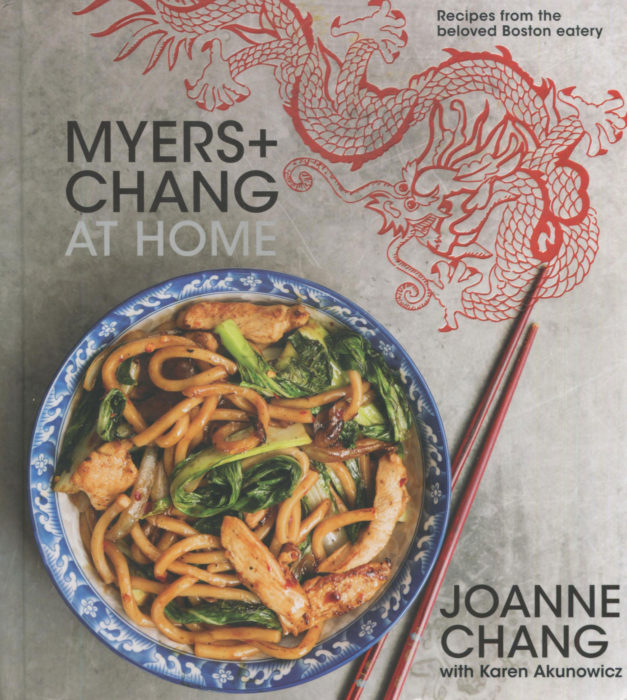 I am spring cleaning and look at what I found in a stack of books on the back of a shelf: the new gem by Joanne Chang of Flour Bakery fame. This book came out last fall, so I have a few months of delights to catch up on. And this book is filled with true delights from her famous Boston Restaurant.
Joanne's story is one of those American fairy tales that make you smile. Born in Texas, Joanne grew up eating only Chinese food. By her teens, she had discovered burgers. At Harvard, she majored math but baked cookies on the side. After two years in management consulting, she shocked her family with the announcement she was going to cook in a restaurant. Her stint included time in a restaurant owned by Christopher Myers. Over the years, she married Christopher and together they opened Myers + Chang serving upscale and quite sumptuous Chinese fare.
In this cookbook you'll find over 80 of the restaurant's wonderful recipes, now written for the American home cook. You'll find chapters for
Dim Sum
Salads
Dumplings
Wok
Noodles
Rice and Grains
Complete Family Meals
Desserts
Sauces, Condiments, and Basics
As you page through this book, your head will spin. Many recipes are paired with spectacular photographs, perhaps the best food photography I have ever seen, urging you to "cook now, right now." The offerings vary from the very simple to some happy challenges.
Who hasn't eaten in a Chinese restaurant and had to ask for more sauce? Sauces are vital to Chinese cuisine, providing contrast, flavor, and often sweetness. Joanne gives us a Rhubarb Duck Sauce, brilliant in flavor but without that irritating gooiness that comes with those little packets you have to struggle to pen. There is her Spicy Apricot Dipping Sauce to enjoy, along with Chili-Tomato Jam and a Thai Chili Jam as well. Ah, that Thai jam is something she puts atop Smashed Fingerling Potatoes.
We all love Chinese dumplings though too often the fillings leave us with the question: what was that I just ate? There will be no question now with Joanne's suggestions:
Shiitake Mushroom and Spinach

Edamame, Wasabi and Mustard Greens

Lemony Shrimp

Juicy Duck and Ginger

Pork and Chive with Black Pepper Scallion Sauce

Braised Short Rib with Sichuan Chili Oil
There is a recipe for Hot and Sour Soup that mercifully has just a few ingredients, not the usual forty. On the hand, you may want to set aside time for the Noodles with Pork Ragu dish. The Pork Ragu requires twenty ingredients including: carrots, celery, onion, garlic, scallion, ginger, soy sauce, hot Sichuan bean past, Chinese vinegar, and chili oil. The good news is that you can make this sauce up to 3 days in advance, say on Sunday, and enjoy it during the week as a spicy pick me up.
Yes, there is a dessert chapter:
Vanilla Bean Parfait with Orange Granita

Chocolate Tofu Mousse

Vietnamese Espresso Ice Cream

Toasted-Coconut Meringue Clouds

Cornmeal-Lime Sandwich Cookies
Oh, you are rather unsure about cooking Chinese at home? The ingredients, the shopping, the gear, the techniques. At Home begins with 70 pages devoted to easing your worries and assuring that these dishes can be prepared in your kitchen. By you. With success.
From sauces to sandwich cookies, Myers + Chang At Home will bring you pleasure and a happy table. Where do Suzi and I begin in this book? Oh, that is easy to decide. You just look at this picture of the Hakka Eggplant!