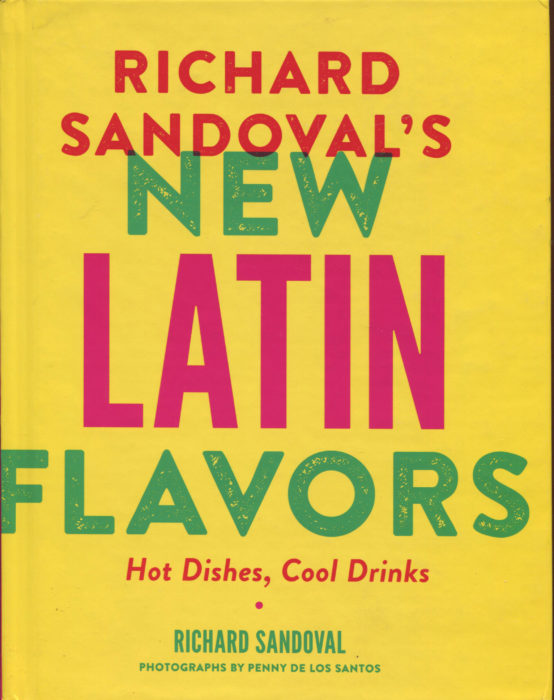 Richard Sandoval has only one cookbook, this very lovely one, New Latin Flavors. He also has over 40 restaurants around the world. That probably explains why we have just one cookbook from one of the top chefs in the world.
World class? Oh, yes. He is. The title of this book explains why. It's Latin food, more than just Mexican. And it is new food. Brand new recipes or deep twists on classics.
The recipes here ring with the notes of a serious restaurant chef. Latin food, Mexican food is often characterized by simplicity. That's not a knock, but is a fact of life. Simple food.
This food is not simple. Consider these ideas:
Ancho-Pistachio Tuna Steak with Mole Verde and Apple-Cilantro Salad

Roasted Beets with Ancho-Honey Glaze and Spiced Pecans

Turkey Breast with Dried-Plum Mole

Thai Chicken Empanadas with Mango-Red Curry Sauce

Seafood Enchiladas with Green Tomatillo Salsa [cooked tomatillos!]

Venezuelan Corn Pancakes with Savory Tomato Jam and Oaxaca Cheese
There are classics recipes here too:
Mexico City-Style Corn on the Cob with Chipotle Aioli and Grated Parmesan

Chocolate Dulce de Leche Roulade with Whipped Cream

Buttermilk Tres Leches Cakes

Strawberry and Basil Agua Fresca
These are exciting, bold recipes. If you are not Latin, how often do you eat Latin food? How often do you make Latin food? If you, say, Irish like me, you may dine Latin several times a year, but you tend to do it in the summer months. And making tacos at home? In, say December? Well, no, because Latin food is summer food.
Turns out, in Latin America they eat twelve months a year. And you should enjoy the rhapsody of these recipes year round, too.