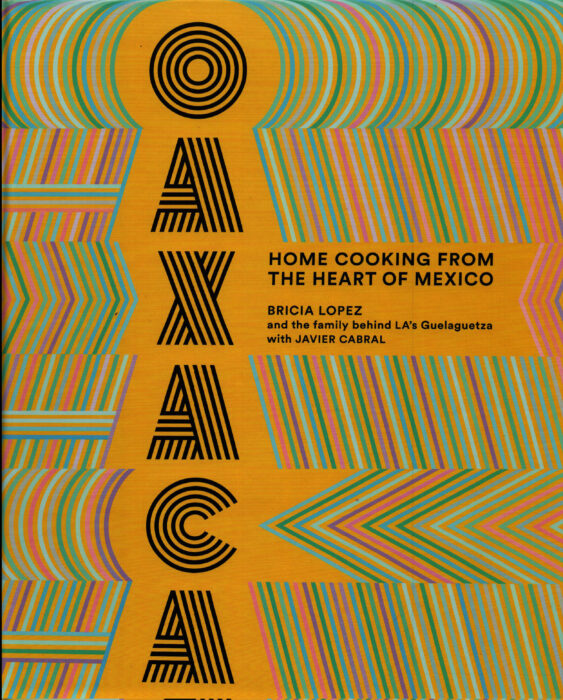 It often turns out that the political capital of a nation is not its culinary capital. Nobody really goes to Washington, D.C. to dine. In France, you go to Lyon for the very best food. In Italy, it's Bologna.
And it Mexico, it's Oaxaca. Which is both a city and a Mexican state. There's an offshoot of Oaxaca called Guelaguetza in Los Angeles. It's a restaurant founded by the Lopez family who hail from Oaxaca, grew up learning the foods there, and have now both the restaurant and this magnificent book.
You want authentic Mexican? The BEST authentic Mexican? Then you want Oaxaca. That authenticity is on display as you scan the chapters. Yes, there's a yummy breakfast chapter and one for intense soups and one for big-platter family meals for this is family cooking to be sure. Dessert shows up in the happy sweet chapter where fruit is as important as sugar.
But there are entire chapters just for salsas, just for moles, and then for the beverages you'll need: mezcal cocktails, agua frescas, and micheladas. The salsa chapter alone is worth putting this book in your kitchen:
Grasshopper salsa [don't worry, mostly tomatillos]

Classic fresh salsa [just the right balance of roma tomatoes, onion, garlic and jalapenos – with the seeds]

Raw green salsa [with uncooked tomatillos]

Cooked green salsa [now the tomatillos and chile and onion are broiled, then blended]

Creamy serrano [cooked chiles with onion, garlic and lime juice]

Rustic tomato [tomatoes, onion, garlic and chile are cooked in a pot of water, then tossed in the blender]

Savory cinnamon [I'm testing this weekend]
And then there are the moles, particularly two foundation versions:
Mole negro [three types of chile, plus 20 other ingredients from allspice berries to Oaxacan chocolate]

Red mole [still three types of chiles, plus 22 other ingredients including sesame seeds, almonds, roasted peanuts, plantain, apple, and raisins]
Oaxaca radiates heat from its pages.  Not tongue-destroying heat. Just a reminder of the sun that powers those chiles. The recipes are the ones you might expect from a home kitchen where a mom or grandmom toils for the entire day. These are not hard recipes, but they are often ingredient-intense and they are ones that take time, more than a little time.
There's a chapter on Oaxacan food staples to get you started. Yes, you'll need masa and beans plus some cactus leaves to pull it all off.
The dishes are rich with salsas or moles providing a liquid exterior of flavor and color. Take this Pollo Enchipotlado: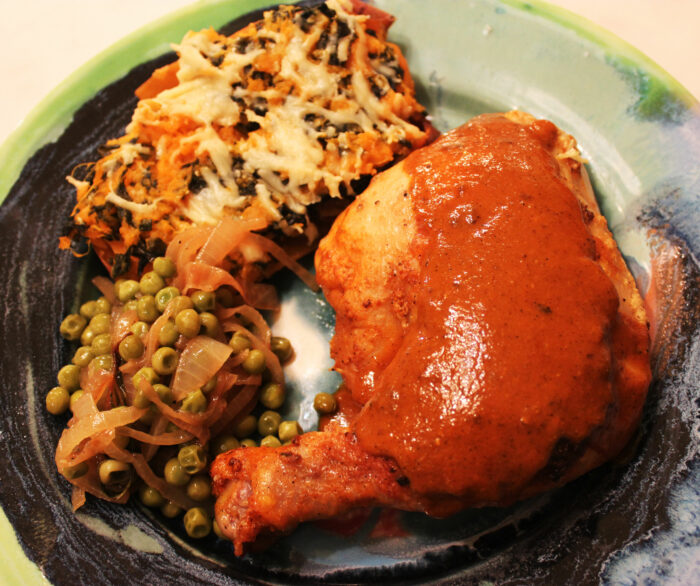 That was our Christmas dinner. It's Chicken in a Creamy Chipotle Sauce. Not hot, hot. Warmish. But tamed with cream and oh-so dreamy. It's a dish that we'll serve over and over again – and I'm posting the recipe for you right after I finish this review.
Other ideas in Oaxaca include:
Scrambled Eggs with Green Beans and Chorizo

Tender Cactus and Guajillo Salad

Chicken in Yellow Mole

Crispy Masa Rolls Filled with Potatoes and Chorizo

Spaghetti in Poblano Salsa

Layered Chocolate and Flan Cake

Limeade with Chia Seeds

Candied Squash Water
You've heard about Oaxaca, you've wanted to go there and, if that trip is still awaiting you, then this cookbook is your preview to the wonders of a culinary capital.
You'll be buying chiles!