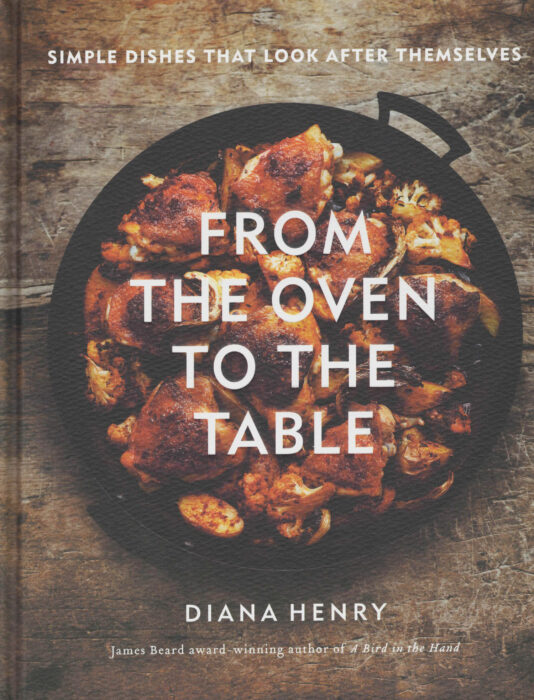 This is the 12th book by Diana Henry. It might not seem possible for each of her excellent books to be even better than the last one, but it surely appears that way. Wandering through the pages of From the Oven to the Table and you might be inspired with a New Year's Resolution: cook your way through the book in 2020.
I know, Dorie Greenspan's Around My French Table had people spending a year meandering through that book. From the Table deserves equal attention. Most happy attention.
There is a very specific theme for this book. Make a totally complete meal in one cooking container. Let that meal literally "cook itself." And minimize the prep work before you cook and the tending to the dish as it cooks.
Here is the simple approach: gather your stuff, put them in a pan, add seasonings, cook, and eat.
Is there some sort of culinary compromise here? Will the food still be wonderful?
Ah, this is a Diana Henry book. The food is uncompromised and divinely complex in its flavor. The secret is to put protein or veggies in that pan PLUS some additions that amplify ingredient flavors — and often add their own. Diana is a believer in shopping for flavors and storing them in her pantry [she has several pantries, organized by world location].
She encourages you to have:
Oils and vinegars: olive oil, pecan oil, toasted sesame oil, as many vinegars as you can
Cans and jars: anchovies, coconut milk , canned tomatoes, olives, preserved lemons, chilies
Condiments, pastes and sauces: miso, harissa, pomegranate, soy sauces, chili sauce, fish sauce, tahini, …
Spices: cumin, coriander, chili flakes, paprikas of all kinds, saffron, cardamom …
Grains and legumes: basmati rice, lentils, couscous, barely, beans …
Nuts, seeds and dried fruits: almonds, hazelnuts , peanuts, pecans, …
Sweet things: honey, maple syrup, light and dark brown sugar …
Alcohols: amaretto, marsala, sherry, rum, …
In each of those categories, she has more ideas than I had space to list here. The motto here is simple: walking down the aisles in the grocery store, if you see something interesting then buy it and use it.
Yes, it can take some space to do this. But there are rewards. Those rewards appear in the very first recipe of the book:
Baked Sausages, Apples & Blackberries with Mustard & Maple Syrup
Turn the pages and the ideas just come on and on:
Creamy Gratin of Finnian Haddie [or smoked salmon fillets], Tomatoes & Potatoes

Chicken with Feta Cheese, Dill, Lemon & Harissa Yogurt

Chicken with Prunes, Potatoes, Cauliflower & Harissa
Of course, there is more than meat:
Cumin-Roasted String Beans & Tomatoes with Tahini & Cilantro

Chili-Roasted Tomatoes with Feta Cheese, Yogurt, Dill, Mint & Pistachios

Roasted Radishes with Honey, Mint and Preserved Lemon

Melting Baked Onions with Parmesan Cheese & Cream

Pomegranate Molasses-Roasted Beets with Oranges, Walnuts, Dill & Labneh

Baked Baby Pumpkins Stuffed with Wild Mushrooms, Scallions, Grains & Gruyère Cheese
Diana's journey into these one-pan fantasies began when she had a life-changing experience with some chicken thighs. She retains that soft spot for chicken evidenced in:
South American-Spiced Chicken, Black Beans & Rice with Avocado, Pickled Chiles a& Sour Cream

Chicken with Wild Mushrooms, Pumpkin, Rice & Sage Butter

Pot-Roast Indian-Spiced Chicken with Coconut
Fear not,, there is meat beyond chicken:
Slow-Roast Hoisin Pork Butt with Radish & Cucumber Salad

Salmon Roasted in Butter with Beet & Horseradish Puree
After a very complete one-pot meal, you deserve something sweet:
Chocolate & Red Wine Cake [merlot in the cake, port in the glaze]

Ginger-Roasted Plums with Lime, Rum & Brown Sugar Cream

Baked Lime, Passion Fruit & Coconut Pudding

Cassis & Bay-Baked Pears with Blackberries
Diana notes that in the United States, this book might be labeled sheet-pan cooking. In London, they have different terms. But the concept is the same.
As you can see from the recipe titles, nothing is "simple." There is complexity in flavor, texture, and color. That complexity grows as you cook away your oven, as ingredients begin to caramelize. The dish coming to your table will redefine the meaning of satisfaction.
From the Oven to the Table will not go up on your kitchen bookshelf. No, you'll have it sitting on the counter. And I bet you'll find one of these recipes on your dinner table every week. It's that important a book. And delicious to boot!