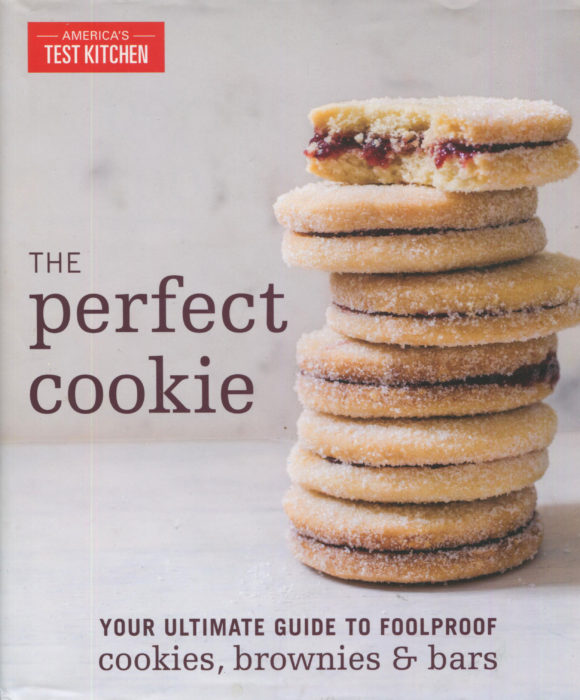 America's Test Kitchen is a Boston-based organization famous for television programs and cookbooks of the highest quality. The Perfect Cookie is their latest book and it is, in a word, perfect. This is an important and substantial cookbook.
There are over two hundred recipes in the 400+ pages of this heavyweight book. Each recipe has a one-page list of ingredients and instructions accompanied by a marvelous full-page color photo. You'll be salivating quickly.
Chapters are devoted to:
Drop Cookies
Slice and Bake
Rolled, Shaped and Pressed
Sandwich
Fancy
Brownies and Blondies
Bar
No-Bake Cookies and Candie
Christmas Cookies
Gluten-Free
There is a vast spectrum of cookie wonders here and each is presented after hours of crafting in test kitchens. Each recipe begins with the phrase, "Why This Recipe Works." Then you have a long, long paragraph describing how this recipe has been perfected. Substituting brown sugar white, browning the butter, refrigerating the dough to prevent spreading, using both vanilla beans and vanilla extract, … Details abound, giving you reassurance that dedicated, professional thought has been devoted to each recipe. Recipes like:
Cashew Caramel Tassies

Chocolate Sugar Cookies

Cinnamon Swirl Cookies

Dulce de Leche and Cinnamon Sandwich Cookies

Mississippi Mud Brownies

Peppermint Mocha Cookies

Russian Cheese Cookies [made with cottage cheese!]

Vanilla Bean-Apricot Sandwich Cookies
Suzi and I have made several of these recipes and all were uniform: flawless, dramatically pretty, and utterly delicious. If you love cookies, but have been a tad shy to bake on your own, all your fears will be dissipated. This the one book you can uses for years with magnificently happy results.
Oh, that brownie chapter is worth the price of the book. The dozen brownies recipes are accompanied by side panels discussing how brownie texture is affected by mixing, the chocolate, the sugars. After getting this education, you'll never use your electric mixer again. Brownies are best made by careful hand mixing. Find your spatula!