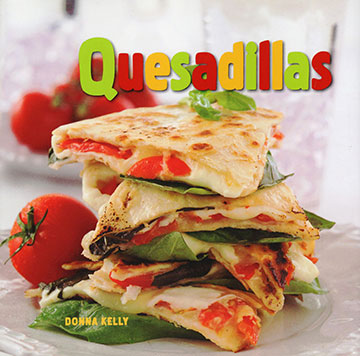 I'm beginning to have new favorite comfort foods. When it comes to Mexican, I have been a taco man all my life. I used to go to Taco Bell for breakfast: 3 tacos and a Pepsi to start the day.
And quesadillas? Uh, no. I think I tried them at Taco Bell and, uh, no.
Well, for Super Bowl, Suzi made Duck Confit Quesadillas. Quite, quite sophisticated. That got me to checking out our bookshelves and I found Quesadillas by Donna Kelly. Published in 2010, this little gem of a book deserves to be ready for use in your kitchen.
I am now a quesadilla man. For certain. Forever. Why? Let's take a tour.
The book has four chapters, abut 15 to 30 pages each:
The Basics: classic quesadilla idea
International: branching out in flavors
Vegetarian: surprising satisfying
Desserts: okay, there are things to consider
Salsas and Sauces: essential components for any quesadillas [including some for those dessert tacos]
What are the treats ready for you here? Look at this Turkey and Cranberry idea: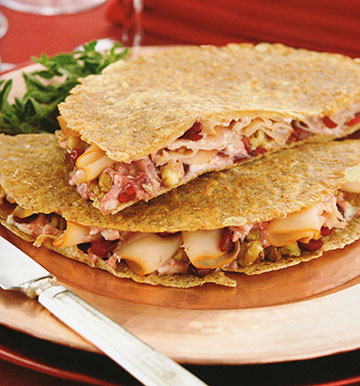 Why wait for Thanksgiving? You can make this now. Other powerful ideas include:
Caramelized Onion Gouda

Crab Cake

Indian Tandoori Chicken

Smoke Salmon

Spicy Cuban

Sweet and Spicy Asian

Walnut-Crusted Cranberry and Apple [that's dessert!]

Banana Split [more dessert]

Sassy Smoky Salsa

Sour Cream Paprika Sauce
Cookbooks need to be delicious. It's great when they make you smile — even before your first bite. That's what Quesadillas will do. The ideas here, some very traditional and some outrageous and some just plain dessert, will give you reasons for having tortillas on hand all week long.
These recipes are easily assembled. For a weeknight meal that smacks with flavor and makes your day end with delight, open up the pages of Quesadillas.
Oh, not just tortillas. Double down on the cheese.