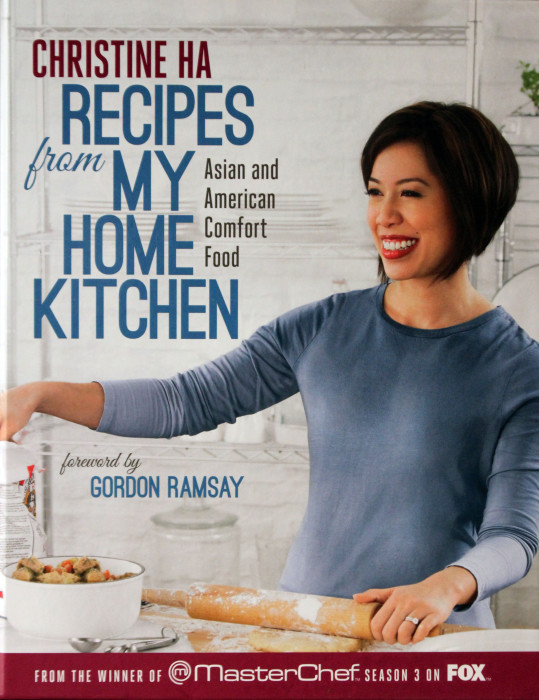 Recipes from My Home Kitchen is the first book from Christine Ha. You may have seen her on TV and been inspired by her energy, flair and beauty. She's a terrific cook and won Season 3 of MasterChef. Her parents came to the United States from Vietnam in 1975 and gave her a heritage of Asian cooking — both the ingredients and techniques. But as a child in America, Christine embraced all the foods of her new world.
She has synthesized her twin worlds, heritage and new, into her kitchen and this book.
It takes enormous talent to achieve the milestones Christine has. And her path has had a major hurdle: Christine developed an eye condition and became legally blind. Yet, she cooks, writes teaches and inspires. The smiles in the pictures tell you something: she loves food, and that love has been adroitly translated into this book.
Growing up, her mother cooked and Christine was, admittedly, a selective eater. Fast forward to college and her off campus apartment with a small, very small kitchen. Christine had the standard two choices: cook or starve. She learned to cook and in the process assemble this mélange of recipes where sometimes East and West merge inside a single dish, like her Stir‑Fried Macaroni with Beef.
Leaf through the chapters in her book and you'll see familiar things [meat loaf in this family oriented book] but then some eye openers, like the Roasted Brussels Sprouts with Caramelized Fish Sauce. Here are the principal chapters with representative recipes:
Snacks and Starters: Caramelized Chicken Wings, Symphonic Sashimi with Avocado Mousse
Bowl of Comfort: Peanut Butter Oxtail Stew, Soy Sauce Stir-Fried Noodles
From My Mama's Kitchen: Stir-Fried Macaroni with Beef, Sticky Rice with Honey-Glazed Chicken and Chinese Sausage
Western Classic: Buttermilk Fried Chicken with Orange and Paprika, Pulled Pork Sandwiches with an Exotic Barbeque Sauce
Food for Casual Gatherings: Cajun Fried Chicken, Stir-Fried Vermicelli with Seared Scallops
On the Side: Roasted Brussels Sprouts with Caramelized Fish Sauce, Broccoli-Rice Casserole
Something Sweet: Ginger-Coconut Tuiles, Honey Lavender Ice Cream
Christine describes this book as home kitchen, comfort food. This is exactly what Recipes from My Home Kitchen is: the book you want to use on Monday through Friday when work is long, time is short and everyone wants something delish. The Western recipes are quick, the Asian have a longer ingredient list and may take you a little more time.
If you have children, this is a good book to share with them. Invite your kids to kitchen, ask for some help, and hopefully you can enchant them with the boldness of the recipes.
Picky children? Do the meat loaf. A bit experimental? Suggest the caramelized chicken wings. Somewhere in this book is your next favorite family meal.