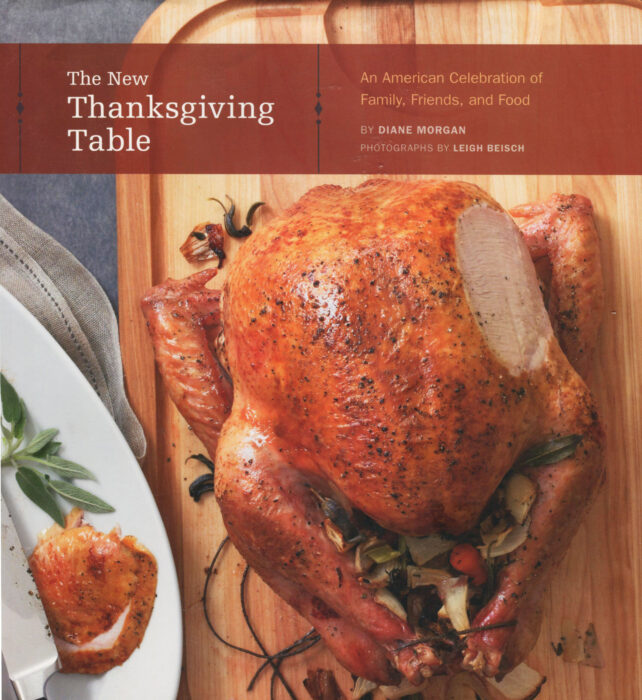 This week I mentioned that as Thanksgiving approaches, we all need great sources for our great national feast. There are four great Thanksgiving cookbooks that endure:
The Thanksgiving Table by Diane Morgan, 2001
The New Thanksgiving Table by Diane Morgan, 2008
The Thanksgiving Cookbook by Holly Garrison, 1991
Thanksgiving Dinner by Anthony Dias Kathryn K. Blue, 1990-
I've reviewed all these before and I'm repeating those review now to give you a chance to look for these resources. Yesterday I posted The Thanksgiving Table by Diane Morgan. Today it is The New Thanksgivng Table, Diane's successor cookbook to that first one.
You'd benefit from having both in your kitchen. Let's just look again at the ideas in The New Thanksgiving Table. And, as a bonus, you'll find a crab dip that has become as traditional for us as the turkey!
---
Every holiday season, I scour the bookstore shelves looking for the new, the intriguing.  I seek the next great book, one that has recipes that can become "tradition" in our house.  Sure, Suzen and I already have a few thousand recipes, but there's always room for more.  Holidays are emotionally important and we look for exceptional food to share with our friends and family.
So just before Thanksgiving I found The New Thanksgiving Table by Diane Morgan.  It was published in 2008, but I never saw it on the shelves last year.  I'm most thankful I found it this year.  It's a perfect holiday book, not just for Thanksgiving but for this winter's special days and very special meals.
As usual, I bought it on inspired impulse.  I saw of couple recipes with a spicy twist [Southwestern Simmered Green Beans with Garlic and Onions].  We were off to have Thanksgiving with best friends who love food and heat, so this book seemed to have potential.
As we drove to Knoxville, I leafed through the book and kept putting stickies on the pages that intrigued me.  We had to leave the interstate and find a Staples, so I could buy more stickies.  It's that kind of book.
Yesterday, I was tired of trying to remember what all the stickies mean so I just put all 25 recipes I'd marked into an Excel spreadsheet.  Suzen saw the spreadsheet and said, "Obsessive compulsive."  I replied, "Organized."  And — excuse me here but I have to pause and write a note to discuss this with my therapist, again — I actually find that putting lists into Excel is a terrific way to organize recipes and ideas.  You can sort on any column, so you can organize by name or book title or page number or … Well, if you are techy and want to know more, please contact me.  I have digressed here.
To be honest, we've never gotten to the Southwestern Simmered Green Beans recipe yet.  It'll be on our Christmas table, I assure you.
We got sidetracked with other things in this book.  These recipes are distinctive.  They are different.  They work — they've been well tested.  They are well written, easy to follow, and perfectly delicious.
The best one?  Well, it's Southern Style Biscuits. Yes, you hear about "The South" and biscuits and you kind of nod.  Biscuits?  You immediately think Bisquick, right?  Did you ever hear about White Lily flour?  Have you ever eaten paradise.  "Light and flakey" takes on a new meaning.  It's a serious reason to buy the book
On Thanksgiving, we loved the Warm Maryland Crab Dip with Lemon Panko Topping.  Paired with a great margarita, and Thanksgiving got off to a very spirited start.  This recipe is listed below.  And on Thanksgiving we devoured the Linguica Sausage Stuffing with Mushrooms and Caramelized Onions.
Since Thanksgiving, we keep trying other recipes.  The Silky Parsnip-Potato Soup with Crisp Diced Bacon is rich without being overfilling.  On a cold night, your bones will love this dish.
We're going to use this wonderful book for the rest of the winter.  I will be marking off each recipe as we try it on my Excel spreadsheet.  Please do not tell Suzen.
---
 Warm Maryland Crab Dip with Lemon Panko Topping
Makes 8 servings
Ingredients:
For the Crab:
2 tablespoons unsalted butter
1 large shallot, mince
½ cup (4 ounces) cream cheese at room temperature
¼ cup heavy (whipping) cream
3 tablespoons mayonnaise
1 tablespoon Dijon mustard
1 tablespoon fresh lemon juice
⅓ cup thinly sliced green onions including green tops
1 ½ tablespoons minced fresh flat leaf parsley
¾ teaspoon cayenne pepper
1 pound fresh lump crabmeat, picked over for shells and well drained
For the Lemon Panko Topping:
3 tablespoons unsalted butter
2/3 cup Panko or other unseasoned bread crumbs
1 ½ teaspoons freshly grated lemon zest.
Pinch of kosher or sea salt
Preparation:
In as medium skillet, melt the butter over medium heat.  Add the shallots and sauté for about 2 minutes until soft but not browned.  Remove from the heat.  Add the cream cheese, cream, mayonnaise, mustard, and lemon juice.  Using a rubber spatula stir to combine, then fold in the green onions, parsley, salt and cayenne pepper.  Fold in the crabmeat, breaking up any large chunks with a fork.  Transfer the crab dip to a shallow baking dish.  Set aside.
Position a rack in the upper third of the oven and preheat to 425° F.
To make the topping, in a small skillet, melt the butter over medium heat.  Add the Panko and toast, stirring constantly, for about 2 minutes until the crumbs are golden brown and crisp.  Remove from the heat and stir in the lemon zest and salt.  Scatter the topping evenly over the crab dip.  Bake until heated through and bubbly at the edges and topping is golden, 12 to 15 minutes.  Serve warm with crostini or crackers.
Source:
The New Thanksgiving Table by Diane Morgan