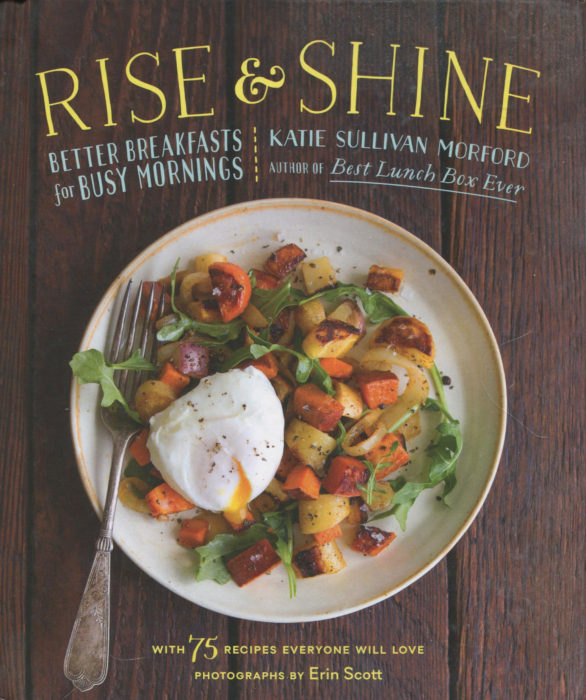 You know the mantra: "Breakfast is the most important meal of the day." Yeah, sure. Whoever wrote that did not have an 8:30 meeting and need to drop the kids off to school. Or come home in the afternoon and get the kids to soccer and then shop for food and then think about making dinner and finally just giving in and ordering pizza so you can go to bed and start the whole damn thing over again.
Breakfast. Yeah, sure.
Author Kate Sullivan Morford would like you to reform. At the very least, on weekends, instead of heading out for brunch, just stay home and make something memorable. There are 75 memories already waiting for you in this book, recipe ideas that span everything you might desire for that first feast of the day. Chapters here present you with ideas for:
Smoothies and Drinks: Strawberries and Cream Spoon Smoothie, Milk and Honey Latte
Everyday Eggs: Weekday Huevos, Pimento and Cheddar Egg Pie
Granola, Oats, and Breakfast Grains: Apricot Ginger Cluster Granola, Morning Fried Rice
Yogurt and Fruit: Pretty Pomegranate Sundaes, Breakfast Baked Apples
Sandwiches and Wraps: Oozy Pear and Gruyere Panini, Cheese Greens Quesadilla
Toast: "Eat Your Veggies" Tartine; Cottage Cheese, Olive Oil and Black Pepper Tartine
Pancakes, Waffles and French Toast: One-Bowl Chile Cheese Cornmeal Pancakes, Slow Cooker Cinnamon French Toast
Make-Ahead Muffins, Breads and Bars: Cheesy Zucchini and Olive Bread, Baked Applesauce Molasses Donuts
Weekend Favorites: Grapefruit Brûlée with Mint and Crème Fraiche, Roasted Roots Hash with Poached Eggs
Yes, Kate appears to have begun life with a sweet tooth, but, I assure you, she's reformed. Take those Breakfast Baked Apples. It's not all cinnamon and sugar. No, the apples are cored, filled with granola and just frosted with maple syrup. Once baked, you pair with yogurt. It's a breakfast twist on a dish that you really cannot say "No" to.
Some dishes here, those Weekend Favorites, do take some time. Still in a hurry on that weekday morning? Well, surely you can make time for the Pretty Pomegranate Sundaes? Surely you can: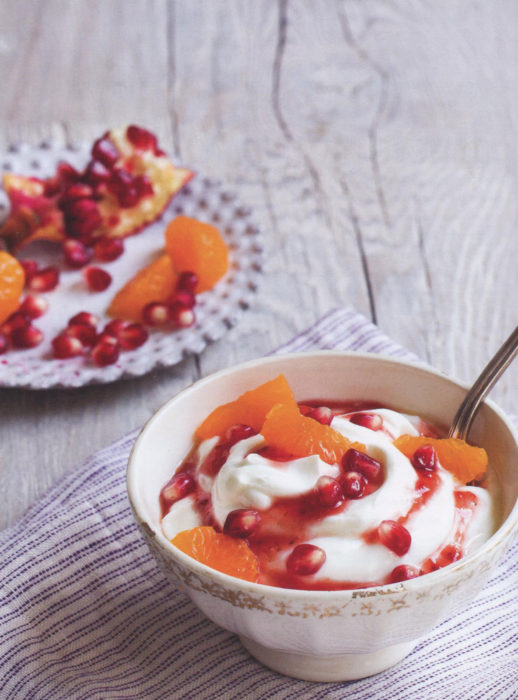 This book may just be the helpful nudge you need to make your days begin with a less rushed and far more healthy routine. Oh, you can still grab that coffee before you reach your desk. Your caffeine edge may wane. Your perspective on the morning may shift: the day can begin with delights and not just that same old rush. The ideas here are oh-so tempting. And, it turns out, yogurt and fruit is really good. This book has already taught me that lesson!