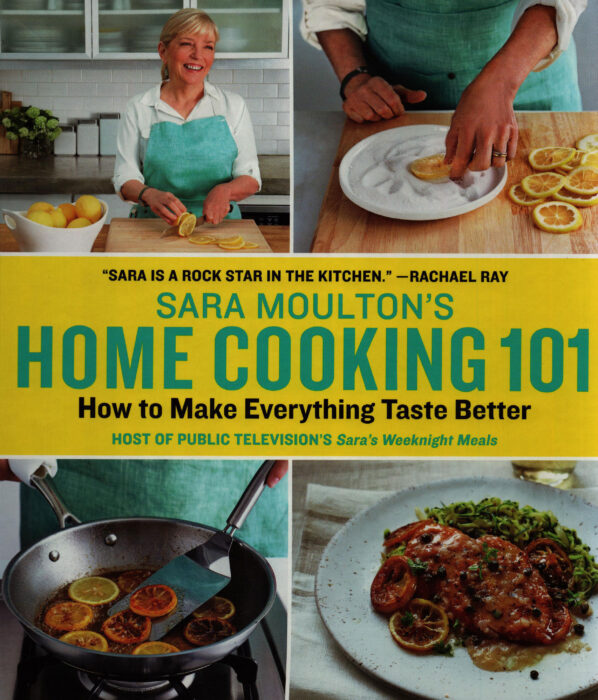 Many of us went to college and have memories of that "first" class in the chain you need to get a degree. Those "101" classes that were the beginning steps.
That "beginning" could be easy or hard, but it was always necessary. It's a thrill to have a "101" experience that is perfect: smooth, productive and palate-pleasing.
We could all use a 101 boost for our culinary skills. Perhaps a series of classes, perhaps an ideal cookbook. Cookbook? Now, who could produce that ideal 101 cookbook?
That's an important question with an easy answer: Sara Moulton. Chef, TV personality, key author, recipe developer — Sara is towering culinary force. If you have watched her on TV, then you have seen her smiling poise and skills. If you have read her books, then you know her exceptional skill at letting words become meals. Delicious meals.
While this book is ostensibly targeted toward kitchen newbies, anyone will benefit from the recipes in this book. Sara's style is to make sure that each dish offers brilliance and substance. These dishes are definitely NOT 1-2-3 because very good food requires some care. Sara holds your hand and takes you on a careful journey with every recipe in this book.
Consider her Baked Chicken Thighs with Pancetta, Olives and Cherry Tomatoes: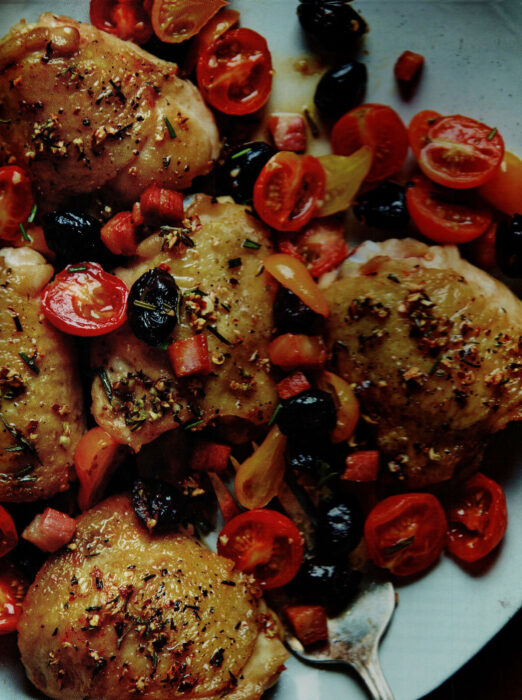 You cannot look at this dish and not salivate. Not want to make it now. And making it now is easy: Sara has it all laid out for you.
The book begins with two chapters devoted to information:
The 10 Basics of Great Home Cooking
The Good Cook's Pantry
If you are a kitchen beginner, then Sara will have you primed and stocked to tackle her recipes.
Those recipes appear in seven chapters:
Soups & Salads for Supper
Quick& Quicker Entrees
Meal in a Pan
Vegetarian and Vegan
Cooking When You Have More time
On the Side
Something Sweet
As you can see, this book targets the end of the day. It's supper, not breakfast or lunch. Cleverly, Sara recognizes that "supper" can come in many formats — particularly given our busy schedules. Dinner really can be a great soup or salad, if not a combination of the two. On weeknights, we need something prepared quickly. And maybe you do want the entire meal to be made in one pan: fast to create, fast to clean up. If it is the weekend, say, and you do have some time, then the "cooking when you have more time" chapter lets you put in the extra effort to get to that next level of satisfaction.
Special needs are happily addressed here: vegetarian & vegan. But, if you are a carnivore, don't skip those chapters. You'd miss the Butternut Squash, Chestnut and Gruyere Crostata: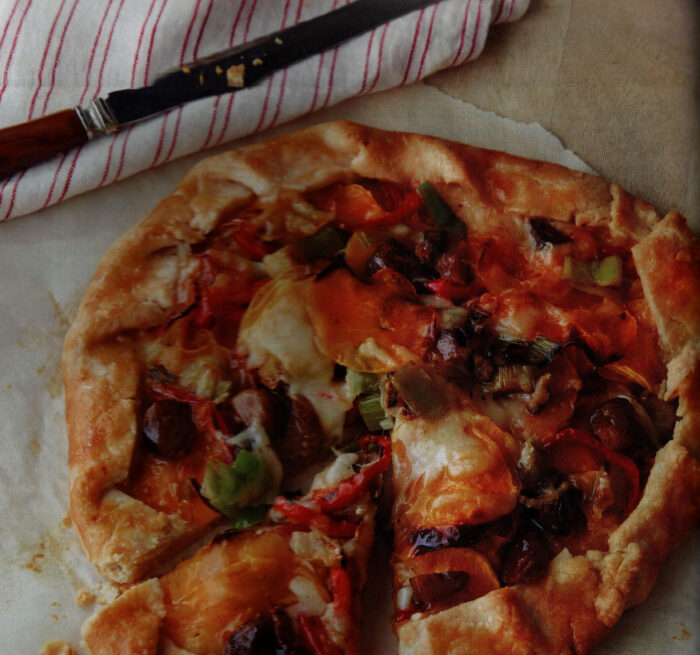 You do want to scan every chapter, every page. Here's a battery of sixteen sumptuous ideas from Sara that will make your day, make your supper:
Quick Preserved Lemon Slices

Italian-Style Potato and Turkey Soup with Parmesan Stuffed Dumplings

Warm Red Cabbage, Potato and Kielbasa Salad with Creamy Mustard Dressing

Quick Tomato, Goat Cheese, and Fresh Herb Penne

Salmon Baked in a Bag with Citrus, Olives, and Chiles

Turkey-Spinach Burgers with Pepperoncini Sauce

Grilled Pork Tenderloin with Watermelon-Cucumber Salsa and Feta Dressing

Quick Texas Chili

Beef Stroganoff Burgers

Stuffed Egg Roulade with Prosciutto, Spinach, and Roasted Red Pepper

Green Chile Rice and Chicken Skillet Dinner

Root Vegetables Bourguignon

Salami and Provolone-Stuffed Pork Loin

Sweet Potato And Grilled Corn Salad with Spicy Cilantro Dressing

Creamsickle Pudding Cake

Bananas Foster Crepes
Look at those recipe titles! They tempt, they seduce, and they will please. The recipes come from both Sara and fourteen guest chefs who have contributed lively ideas here. Chefs like Rick Bayless, Jasper White, and Jacques Torres make these pages burst with cultivated flavors.
Sara Moulton's Home Cooking 101 is your chance to return to school. And enjoy every last bite.