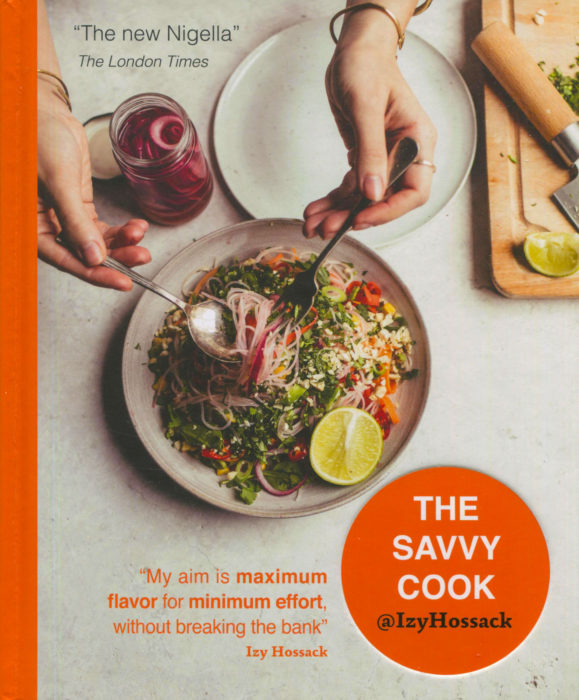 There was a time when the phrase "vegetarian" made most people turn and flee. For good reason. Twenty or thirty years ago, vegetarian food was vile.
Today, besides "vegetarian" we have "vegan" and "gluten free." And today, we have every reason to embrace the new books that present these styles of food with wonder and perfect taste. Author Izy Hossack has been called "the new Nigella" by The London Times. That would be a heady compliment for anyone. For a young lady of 20, still in university, it's a glamorous introduction that alerts us: pay attention.
It turns out that, to have a robustly satisfying main course, you don't need meat. You can try a Cauliflower, Leek and Sage Pie, like this: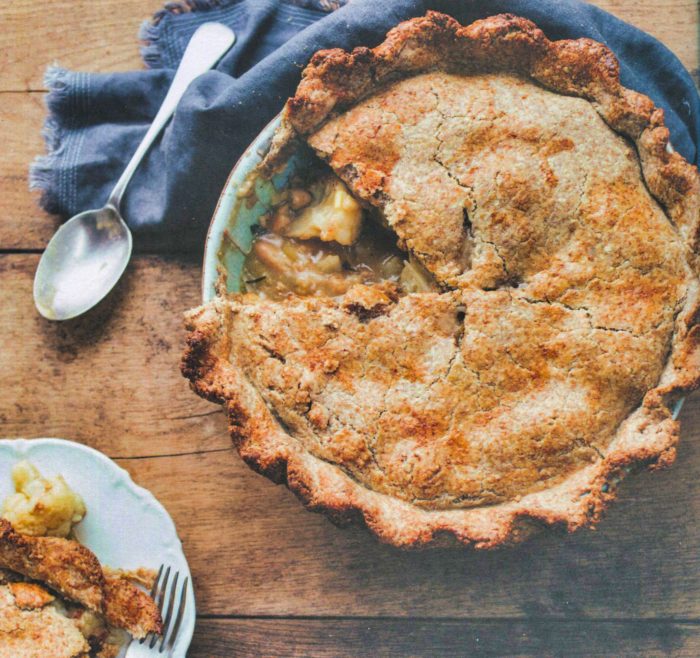 Or a Squash, Cauliflower and Roasted Garlic Gratin like this: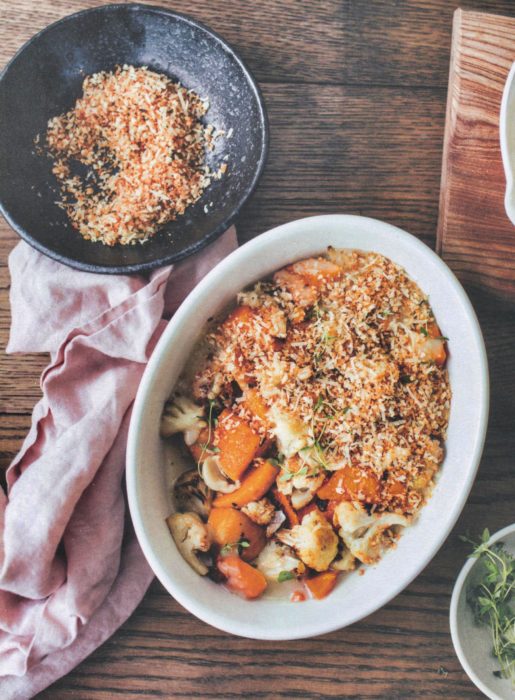 Whether she is preparing breakfast or lite bite or big meals or rescuing leftovers, Izy puts a distinctive and intense aspect into all her recipes. There are ideas here that you really want to try and that are certain to be constants in your life:
Lentil and Fennel Ragu with Balsamic Onions

Lime-Chile Corn with Magic Ganache [made with sweet potato]

Spiced Sweet Potato Fries with Smoky dip of Tahini, Paprika and Maple Syrup

Sweet Miso Eggplant and Walnut Salad
These recipes are flavor bombs, frosted with herbs and spices and perhaps touched with that maple syrup. Izy wants you to enjoy great food, but not at great expense or great effort. So, the ideas here are readily prepared and hardly budget-busting.
You are not a cauliflower fan? Ah, you will be here: that Cauliflower, Leek, and Sage Pie is framed in Oat Pie Dough and replete with that sage, carrot, celery, miso and cannellini beans cooked in vegetable stock. There's your option: make your own vegetable stock, rich in flavor and dense in color. This is an over-the-top dish. Pair with an upscale white, and you have an outstanding meal.
Once you begin with The Savvy Cook, you will simply think of it as a wonderful new cookbook with exciting concepts. It does happen to be vegetarian. It hardly matters.