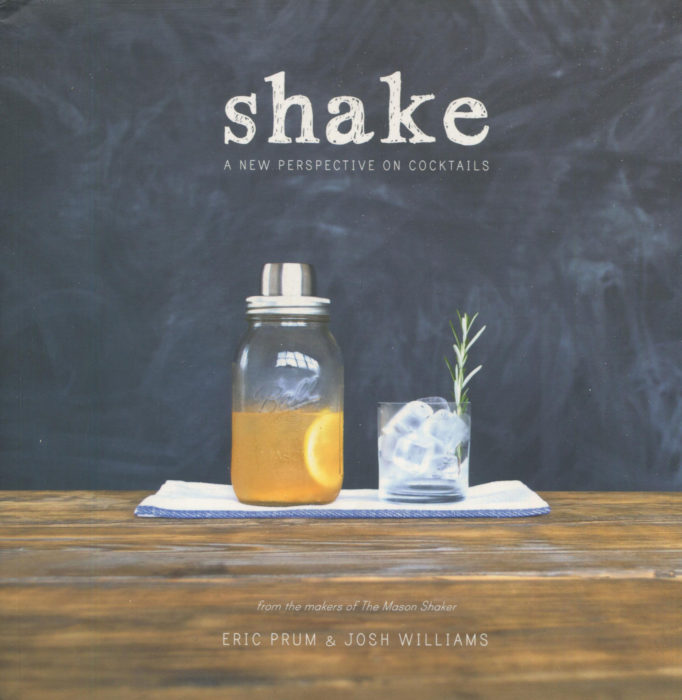 Authors Eric Prum and Josh Williams asked themselves a basic question of life: why can't you get a great, exciting cocktail at home like you do in a Brooklyn bar. Friends since college, they founded W&P design and have included some interesting books in their portfolio of products. Shake is written with three principles in mind:
Cocktails should be fun
Cocktails should be simple
Cocktails should be social
I do agree with the three ideas here, although I have no objection to making a beverage for myself and sipping, quietly and reflectively.
Fun these cocktail ideas are. And simple to be sure, although not minimalist. These men have written a book targeting people who have shied away from trying to bartend at home. They have an introduction that includes the basic set of liqueurs you want in your home bar, the glassware you need, and considerations on ice, sweeteners, muddling and shaking techniques. There are a dozen background pages of background here, a primer you can breezily read and quickly follow to stock that home bar.
Their booze suggestions are quite contemporary. The want you to have Aperol, not Compari. Cointreau, not triple sec. Good gin and vodka like Greenhook and Tito's. Light and dark rum with Gosling's of course being the dark. St. Germain naturally. Looking at the recommendations here, you realize you are dealing lads who understand the current cocktail scene.
That opinion can only be reinforced when you look that four chapters of recipes, organized by season. Using seasonal, fresh fruits is key to the cocktails you find here. Some sample ideas include these ten winners.
For Winter:
Mid-Winter Margarita with Lime and Grapefruit Juice Plus Cointreau

The 'Nog [vanilla ice cream with bourbon and rum for advanced egg nog]
For Spring:
Blackberry Fence Hopper

Strawberry Rhubarb Fizz
For Summer:
Plum Smash

Watermelon Daiquiri
For Fall:
Dirty Espanola with Caper Berries and Caper Juice

Downeaster with Apple Cider Syrup

Indian Summer with Concord Grapes

Rosemary Maple Bourbon Sour
No, fall is not twice as important as the other seasons. I just like apple cider and concord grapes.
Each cocktail is beautifully photographed, sure to inspire you to chop, muddle, mix and pour. Here's that spring drink for you, the Strawberry Rhubarb Fizz. Never bought rhubarb in your life? You will. Well, you should, you really should. Oh, you'll need a little strawberry jam, too!
First published in 2014, Shake is a best seller that is readily available at many local bookstores.