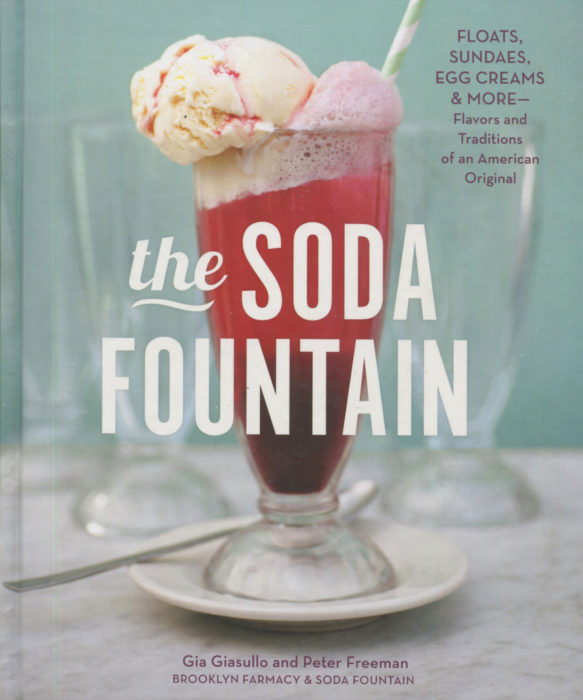 In 2010, in Cobble Hill in Brooklyn, Gia Giasullo and Peter Freeman opened up the Brooklyn Farmacy and Soda Fountain. It took hours for the first lines to form out the door and the lines remain.
In 2014, they published this book, this wonderful book to make your summer an ice cream festival. Well, actually, with the ideas here, the whole year can be festive. Since ice cream has no expiration date, if you missed this book in 2014 you'll still find it prominently displace on store shelves. It's an important treatise on a grand American tradition.
This book comes with two parts: a fifty-page intro to soda fountains in American history [including the glory years of Prohibition] and then a hundred and fifty pages of recipes.
And not one ice cream recipe in the lot! No, this is a book about assembly. It assumes you have ice cream on hand [vanilla, chocolate chip, coffee, …]. The recipes here about the additional elements you need for treats like Sodas, Floats, Egg Creams, Sundaes, and Milkshakes. You will need syrups and toppings, fruit compotes, and cookies crumbs.
The recipes for all those elements are here. A baker's dozen of the ideas in The Soda Fountain should make you lust:
New Orleans Mead Syrup [or Root Beer Syrup]

Concord Grape Syrup

The Purple Cow Float [made with that Concord Grape Syrup and pictured below]

Hey, Blondie Sundae with Toffee Ice Cream and Caramel Sauce

Affugazi Affogato with Vanilla Cake, a Chocolate Shell, and Hot Coffee

Brooklyn Egg Cream

Spice Cake Sundae with Bundt Cake Crumble and Eggnog Ice Cream

Blackberry Compote

Banana Rum Sauce [to be used IMMEDIATELY]

Pistachio Crumble

Pecan Pie Milk Shake

Whipped Cream Made with Vanilla Bean Paste

Candied Bacon Bits Made with New Orleans Mead Syrup
Ah, that mead syrup. Originally, root beer was made with sassafras root. In 1960, the FDA banned it on the grounds that it contained an oil that could cause cancer. Since then root beer makers have scrambled, and the Brooklyn folks here have discovered a Sassafras Concentrate Instant Tea that is legal and works. This root beer syrup also contains cloves, allspice, nutmeg, mace, ginger, vanilla bean paste, sugar and honey. It's an afternoon of effort, but one I'm willing to undertake.
This book will keep you drinking, and wiping whipped cream off your face, for months. The ideas for compotes and syrups will have you thinking twice as you walk through your summer farmers market. What could I make with that, you might ask yourself. Better yet, how can I drink that?
The answers are all here in The Soda Fountain.