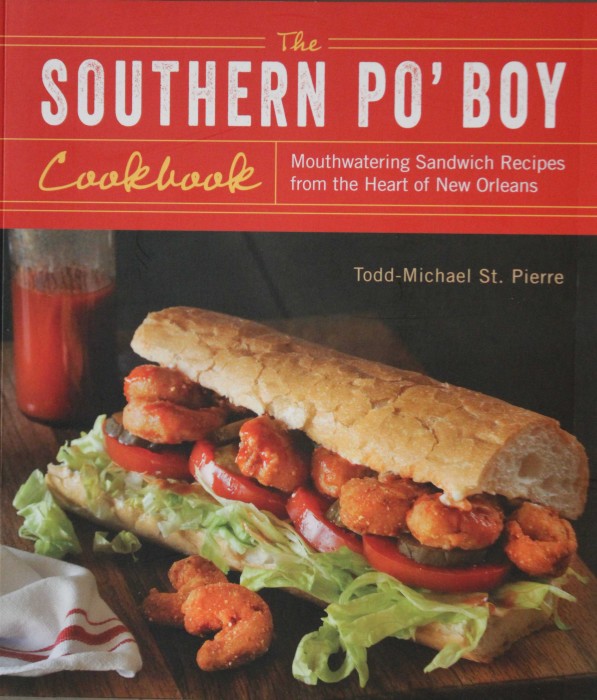 This year, your travel plans may not call for going to New Orleans or having a New Orleans feast with a bevy of family or friends or just everybody on your block.
Here's how to share an incredible and totally authentic New Orleans experience right in your home kitchen or barbeque. Get The Southern Po'Boy Cookbook by Todd-Michael St. Pierre and indulge yourself.
The Po'Boy is one of those regional dishes that has a great background story. In 1929, two sandwich-stand owners, the Martin brothers, began giving out free and oversized sandwiches to striking streetcar workers. Yes, streetcar as in Streetcar Named Desire. The brothers even got a local bread maker to change the shape of his bread so that the ends were square and did not taper. That way the filling could be more quickly spread and there was more to enjoy.
The sandwich was used to help the "poor boys" or po' boys on strike. After the strike, the sandwich was a popular new item. The Depression had started, so the first po'boys used leftover beef and gravy with perhaps sliced potatoes. They were still huge and were expensive. One nickle.
Move to today, and in New Orleans everyone has their favorite Po'Boy sandwich and matching local stand. There are boundless varieties and deciding which is "best" would, of course, engender deep conversation.
Todd-Michael does not seek to resolve the "best" issue, although his favorites are here. Chapters are devoted to Po'Boys both historic and creatively new:
Original Nola: the authentic ones like Fried Shrimp and Oyster or Ham and Swiss or Muffuletta combining salami and ham
International Style: featuring world-class ingredients on big bread like an Italian Spicy Italian Sausage or a Swedish Meatball and Gravy or a Thai Squid with Chili Sauce
Elegant Style: if that is possible, offers the Gert Town with Pork Tenderloin or one called the Algiers Boy with Fried Scallops and Chipotle and even, yes, an Eggs Benedict version complete with asparagus
Unusual Po'Boys: Fried Alligator Tail [looks like chicken I swear]. Turkey and Stuffing or the Ultimate BLT or — imagine this — Glazed Ham with Macaroni and Cheese
If It Swims: oyster and crab ideas in abundance
Po'Boy gives you options. You can stick with the authentic or you can follow your imagination like Todd-Michael and even like the Martin brothers. Don't think of it as just a sandwich. The bread is a plate and you can put just about anything on a plate. No, there is no gazpacho Po'Boy.
You can make a Po'Boy for just yourself, but this is really the ultimate party book. Have on hand the ingredients for two or three or four of these delights, and big mound of square-ended French bread, and probably a lot of beer, then turn your guests loose. They will delight in discovering who can make the tallest stack, let alone who can possibly devour it. Your party will be filled with fun, laughter, and perhaps some food on the floor. Maybe my party idea is best for back yard, but it's a great idea. Just like Po'Boy is a great book.
I'll be in Seattle next week with my daughter. We will make, and I will show you, the Who Dat: New Orleans-Style BBQ Shrimp made with Worcestershire, Tabasco, cayenne, paprika and lots of butter.
Oh, butter. There is lots of butter here. I showed Suzen the recipe for a Creamy Creole Mustard Sauce made with, among other things, 4 tablespoons of mustard, ½ cup of wine, ½ cup of heavy cream, and 1 full cup of butter. Po'Boy sandwiches have a legend for being outrageously, disproportionately over the top. Now you have a hit why.
Don't forget to party! With The Southern Po'Boy!