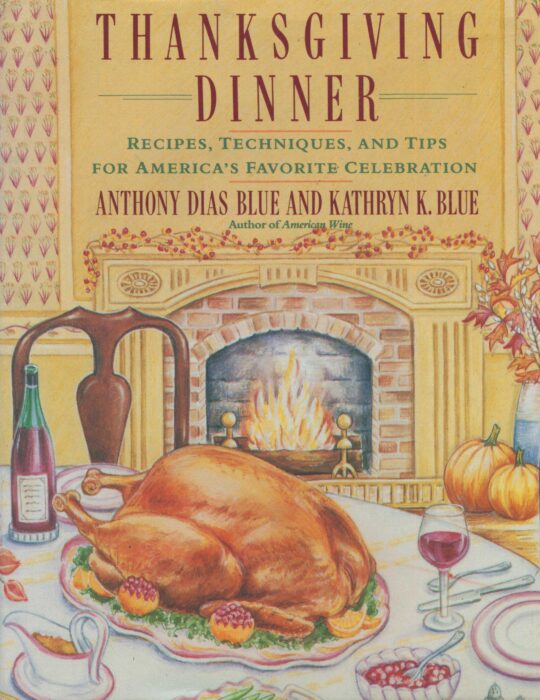 Last week I mentioned that as Thanksgiving approaches, we all need great sources for our great national feast. There are four great Thanksgiving cookbooks that endure:
The Thanksgiving Table by Diane Morgan, 2001
The New Thanksgiving Table by Diane Morgan, 2008
The Thanksgiving Cookbook by Holly Garrison, 1991
Thanksgiving Dinner by Anthony Dias Kathryn K. Blue, 1990-
Now I thought I had posted reviews for them all, but that's not true. For that very oldest one, Thanksgiving Dinner from 1990, I never did. I think that is because in 1990, Cooking by the Book was 2 years old, a mere toddler, and we did not have a website.
Time flies.
But not the quality of this superior Thanksgiving cookbook. Suzi and I turn to this for its powerful Stuffing chapter. You see, we make our stuffings. From scratch. Which is not the same as opening a cardboard box. I don't disparage the people who do that, and many of you do, but I really think you are missing on part of the grandeur of the holiday.
When you make your own stuffing, your kitchen is filled with a symphony of flavors as the day progresses. From the vegetables being sauteed to the bread being cut up to the aroma of chicken or turkey stock being warmed up.
Here is the catalog of stuffing ideas contained in Thanksgiving Dinner:
Quick Stuffing [classic and easy but with chestnut halves!]
Sausage-Crouton
Glazed Chestnut, Apple and Sausage
Corn Bread
Oyster Corn Brad
Sauerkraut Apple
Pistachio and Apple
Knickerbocker Corn Bread
Couscous
Chicken Liver
Sausage, Prune and Rice
Savory Wild Rice
Port, Apricot and Rice Stuffing
Herb, Mushroom, and Chestnut Forcemeat
Oh, the last one. Forcemeat? It's French and a combination of meat, or poultry or fish combined with flavoring like fat, seasonings, and spices. A full discussion can be found at:
https://www.thespruceeats.com/what-is-forcemeat-995684#:~:text=Traditional%20or%20straight%20forcemeat%20is,garnish%20of%20nuts%20or%20vegetables.
This year, our table will be filled with people. About a dozen and counting. So, we either make a lot of one stuffing or we have a variety. I think the Wednesday before Thanksgiving, our kitchen will have two or even three in the oven. Which ones? Well, that Quick Stuffing, with classic components, is an easy choice. Then Pistachio and Apple? No, I'm going to beg Suzi to finally, finally give in after 37 years of marriage and make Savory Wild Rice Stuffing.
Why? Well, I like wild rice. And I'm tired of begging. And, and, just read this recipe and see if you don't want it on your table, too.
---
Savory Wild Rice Stuffing
Yield: 16 cups, enough for a 20+ pound bird
Ingredients:
8 ounces of unsalted butter
2 cups wild rice
2 cups long-grain rice
3 large onions, chopped
2 cups chopped celery, including the leaves
4 cups chicken stock
2 cups toasted and coarsely chopped pecans
¼ cup chopped fresh parsley
]1 tablespoon salt
1 tablespoon dried sage
1 tablespoon dried marjoram
1 tablespoon dried savory
1 tablespoon ground cinnamon
2 tablespoons celery seed
1 teaspoon freshly ground white pepper
Preparation:
Melt the butter in a large heavy skillet or casserole. Add rices, onions, and celery. Cook over medium heat for 6 minutes, stiffing occasionally. Add the stock and bring to a boil. Reduce the heat, cover the pot and simmer for 25 minutes or until the stock is completely absorbed and the rice is tender.
Stir in the pecans and seasoning, and mix thoroughly.
Source: Thanksgiving Dinner by Anthony Dias Blue and Kathryn K. Blue