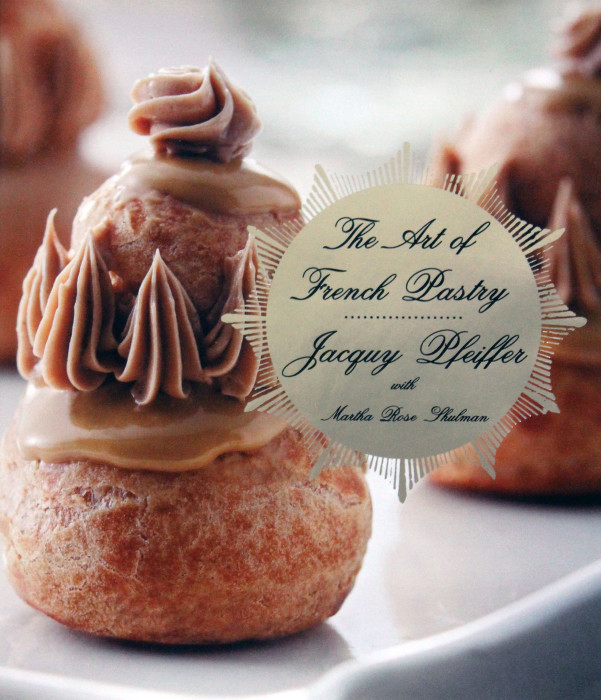 And on the fourth day of reviewing outstanding pastry books, we have The Art of French Pastry by Jacquy Feiffer with Martha Rose Shulman. This book fulfills a very distinct need: it is the ultimate in detailed instruction. Other pastry books we have looked at tell you what to make. The Art of French Pastry tells you why you make it that way. It's cookbook for sure, but here you'll find kitchen chemistry, the architecture of layered or towered dessert design, and the vital engineering to enable those pieces in a composed dessert to come together and then stay attached. All with beauty and deftness.
If you want to make beautiful desserts and truly understand how they "work" then The Art of French Pastry is essential for you.
Unlike some other pastry books we have considered with an emphasis on photographs to entice and enlighten, this book takes different routes to providing you detailed information. Take nuts, and how to roast them as an example. Is there a difference between walnut pieces and whole walnuts when you want to roast? About 3 minutes according to Pfeiffer who provides a chart with the roasting times for 23 different nuts combinations. It's a book about detail.
There are photos in this book, good, full page ones of many of the desserts. But it's the diagrams that I relish. There is a wealth of carefully constructed [engineering again!] 2-D drawings showing for example:
The right and wrong way to line a tart pan with dough to prevent collapse
How to cut croissant dough and where to put the chocolate when making that chocolate version
How to pipe the mousseline onto the puff pastry sheets when assembling mille-feuille
The molecular difference between a successful and a broken ganache
The diagrams come with full explanations so now you know, if your ganache breaks, how to fix it. And how to avoid breakage next time. It's a book about necessary details.
The organization by chapters follows a standard path from techniques through simple things to challenges for your new talents. Here are the primary chapters with some representative treats:
French Pastry Fundamentals: glazes, syrups, washes, doughs
French Pastry Classics: Chocolate Éclairs, Paris-Brest, Napoleons,
Tarts: specific tart doughs, Wild Blueberry, Plum, Alsatian Sour Cream and Berry
Cookies: Spritz, Coconut Macarons, Palmiers
Cakes and Ice Cream: Chocolate Almond and Ganache Pound Cake, Black Forest Cake, Frozen Coffee and Chocolate Mousse
Sweet and Savory Alsatian Specialties: the signature Alsatian bread Kougelhof, Streusel Brioche, Warm Alsatian Meat Pie
From the Classics chapter on, there are about 300 pages, filled with instruction, ingredients, photos and diagrams. You begin to think you've opened a treasure chest. And you have. Thing is, when you count them, there are only about 60 recipes. You do the math: it's almost 5 pages per recipe. It's an immense stream of detail. Relax, you will not be overwhelmed, but you are surely going to have the sense — as your review any recipe — that you are about to enter a graduate school for pastry.
Take that Black Forest Cake. The list of ingredients numbers 25, and several of those are "compound" ingredients like a Vanilla Custard Sauce that has 6 ingredients of its own. And there are 24 tools and items, from spatulas to a double boiler, that you will need for preparation for the cake itself, let alone the compound pieces.
Accordingly, right up front you get advanced notice: this Black Forest Cake will take two days to prepare. You get the breakdown for what is made on Day 1 versus Day 2, and the step-by-step process for each day. You won't get lost and the cake will be rewarding. This is baking from scratch at the extreme, and some self-pride is well deserved when you undertake any of these projects.
Other examples of the detail in the book include:
10 pages on making and piping Choux [cream puff dough]
6 pages on the turns of Puff Pastry
7 pages on each roll of making Croissants
More than any other book, your hand is being held here as you are led down a path to dessert success and quality. It almost would help you to have a partner-in-flour as you commit yourself here for any of the recipes: a spouse, a friend, a child with chef aspirations. You know how you were always told to read a recipe before beginning? Well, five or six or ten pages of recipe is lot of material to absorb. Clearly you'll be going back and forth over the recipe. Having a good reader here can mean as much as having French butter.
The Art of French Pastry is for the dedicated cook. This is not a casual baking book. This is a culinary tour de force. Yes, at times, you'll get bogged down in the details. The devil is in those details. So is the taste.
Treat yourself. Give The Art of French Pastry a test drive. You won't bake the same way again, ever.