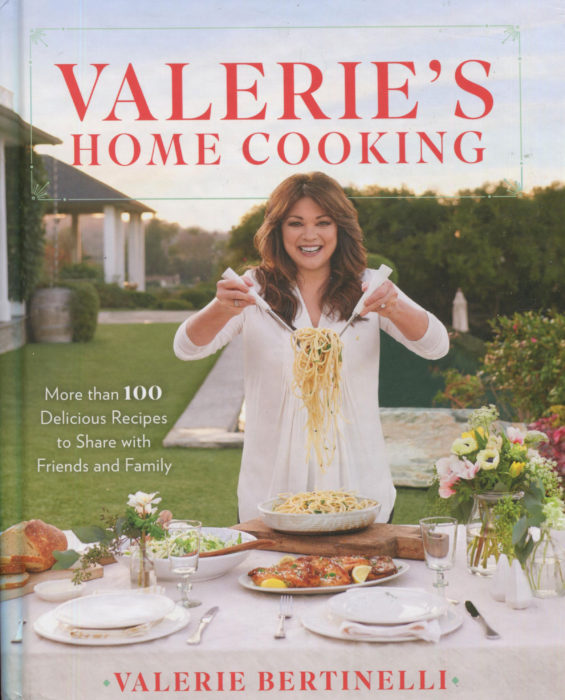 Sometimes people are described as multi-talented. And sometimes those people really truly are multi-talented. Valerie Bertinelli is absolutely one of those marvelous people who succeed with grace and elegance on multiple fronts. As a TV star, she is dear to many hearts. In recent years, her love of food has made her a Food Network star in her series Valerie's Home Cooking.
Now, the best of that show, the best of Valerie's culinary heritage is on wonderful display in this new cookbook. Published just a week ago, this is a cookbook you want to pick up and page through. Do that and I'm sure you'll be very, very tempted to start cooking that very day.
With that name, Bertinelli, you know she is Italian-American. What you may not know is that she grew up standing by her grandmother in a basement kitchen in Delaware. She watched, she smelled, she tasted, and certainly this culinary pathway for her was forged. Her grandmother cooked from memory and skill. So, Valerie did not have access to written recipes from that past. She's worked to recreate many of those old recipes and she is lucky to have actual notes from her mother, another skilled home cook.
The result is this book that reflects grandmother, mother, and Valerie herself. She strongly believes that cooking is an act of love. And, equally important, cooking should be fun. It might take a bit of time, as her grandmother and mother showed her. You can shift ingredients around, but time can be all important when it comes to getting the flavors "just right", just like you remember from growing up.
There are over 100 recipes here. Valerie began with 200 but her editor did a little trimming.
"Will there be a second book then?" I asked Valerie.
"I hope so," she answered with energy and enthusiasm. When you look at this book, you will hope so too.
The chapters here walk you through the day: breakfast ideas, noshing through the day, happy hour essentials, dinner mains and dinner sides, and of course dessert. Italian-American desserts to be sure.
What kind of ideas pop up here? This is a representative sample:
Slow-Cooker Granola

Cherry-Coconut Scuffins

Ham, Apple and Cheddar Sliders

Slow-Cooker Beef Sandwiches with Giardiniera Aioli and Italian Seasoning

Lobster BLTs

Avocado and Grilled Corn Salad with Green Goddess Dressing Spiked with Jalapeno

Watermelon Margaritas

Bloody Mary Tea Sandwiches with Anchovy and Pickled Jalapenos

Tuna Noodle Casserole with Potato Chip Topping

BLT Pasta

Root Vegetable Gratin

Lemon-Basil Granita
Oh, yes, this book does pay tribute to the American cooking of the 1950's and 1960's. That tuna noodle casserole with potato chips? It's good. It was good then. It's good now. And you want to do it. You really need comfort food, you know!
I did not ask Valerie but I think she must own a few slow-cookers. Many recipes here call for that special ingredient I mentioned: time. In all these recipes, Valerie provides her own personal spike. One recipe calls for Italian seasoning. You can buy a bottle of it, of course, but Valerie has a recipe use fresh herbs, ideally from you own garden. Her Green Goddess Dressing does have a jalapeno.
"Why?" I asked her.
"I like spice," she laughed. I think she's right, absolutely right.
Valerie's Home Cooking has a wealth of recipes that you will enjoy. They are waiting for you here, clearly written, beautifully photographed and surely presented with love.