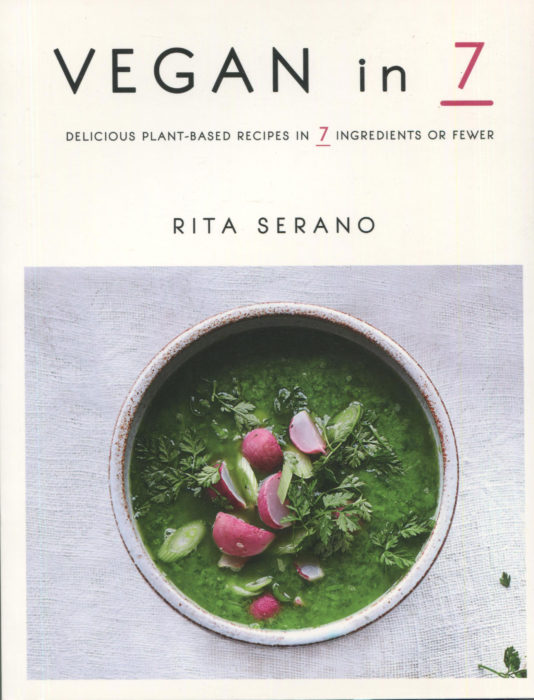 Author Rita Serano is an expert in plant-based recipes. I think "plant-based" is a softer and actually more serious term than "vegan" although "vegan" is in the title here. Sometimes you need to go with the trends. But here Rita is very likely to be setting some trends herself in a carefully crafted and articulated book.
Too often when we see a book described a "vegetarian" or "vegan" many of pass it by. That's a mistake. Think of those cuisines as offering food based on a different selection of ingredients. Cook out of one of these books and you have not been converted into a cult. You will, in the case of this specific book, simply enjoy a wonderful dish or even a full meal.
And very swiftly concocted dishes, too. With no protein or dairy to worry about, these veggie and plant recipes are easily prepared. Dishes like:
Root Vegetable Boulangere: a tray of baked winter veggies

Spicy Carrot and Chickpea Stew: steaming hot and cleverly aromatic

Spring Pea Soup with Roasted Radishes: the book cover

Sweet Potato Fries with Spicy Guacamole: no deep frying needed

Tomato, Tarragon, Nectarine and Horseradish Salad: to be enjoyed at the peak of summer
Rita is Dutch and divides her time between very cosmopolitan Amsterdam and the French countryside where she has a large and serious garden. Blogger, recipe developer, and food photographer, Rita has two decades of plant-based experience. With that garden, the experience includes getting her hands dirty, muddy and just plain wet.
Her recipes are minimalist. The "7" in Vegan 7 stands for 7 ingredients at most, and usually fewer. The result is recipes that will never "overwhelm" you with a long stack of ingredients or complicated instructions. Three or four paragraphs carry you through from beginning to sitting down to relish your creation.
It's a year-round book with the Root Vegetable dish perfect for these winter months. But spring will slip around us soon enough, and peas will be here in bountiful supply. That Spring Pea Soup should be on your must list.
If you are one of the lucky folks to have a vegetable garden, you surely want this book. And, if you don't have that garden, maybe an indoor tomato plant or two is in your future. Her Mexican Black Bean Chili calls for fresh tomatoes. For a very good reason.
This book is new and will on your store shelves in February. You can, of course, pre-order online.