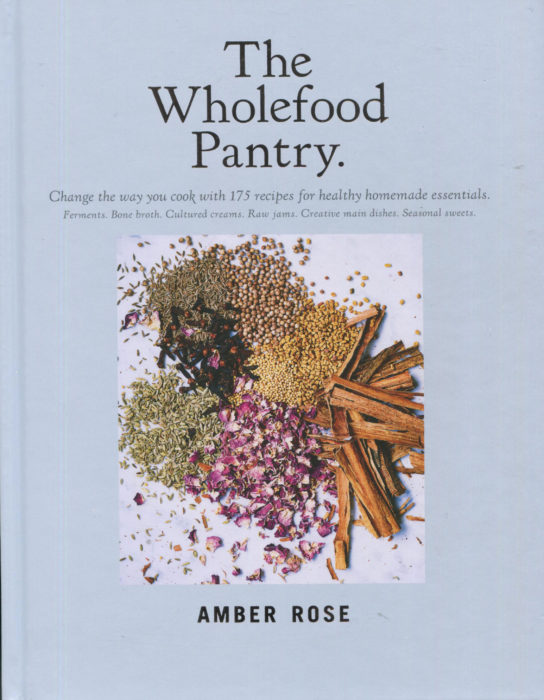 In her first book Nourish Amber Rose gave us a preview, a trailer, of her talent for complete food satisfaction: taste, flavor, texture and sumptuous visual beauty. In her new The Wholefood Pantry, she embarks full force on suggesting how you can change your culinary environment. For the much better.
We all have a "pantry." Maybe it is just a shelf. Maybe part of a wall. Suzi and I have a real pantry, too small it turns out. It's four by ten feet and it's packed.
Amber is all for a packed pantry. But, she wants you to pack it personally. Make, not buy. Fresh ingredients with no preservatives. And overflowing with deep, complex flavor.
Pantry is filled with ideas for all kinds of products, components to be employed in ultimate finished dishes. There are salad dressings, jams, broths, salsas, chutneys, dips, … There are 175 recipes here and you probably can find a use for half or more of them.
The Wholefood Pantry comes in two sections: Savory and Sweet.
My sweet tooth is enormous, but I was most attracted to Amber's savory ideas. She offers some family recipes —she was born in New Zealand — that reflect a childhood spent near a garden and orchard:
Plum Ketchup

Blueberry and Blackberry Syrup

Apple and Pear Chutney

Rhubarb, Rose and Lime syrup

Salsa Verde with Capers and Anchovies

Sweet Chili Sauce

Whole Roasted Spiced Cauliflower
Ah, that last idea really isn't a "pantry" item at all. It is a meal unto itself. There are recipes here for actual dishes that you will be consuming right away. This cauliflower is a tour de force of "flavorization." There is a marinade of honey, thyme, garlic, and paprika to give that spicy [and sweet] aspect to the — let's be honest — potentially bland cauliflower. That's Amber's genius on display: converting cauliflower into something you crave.
The recipes here, again garden and orchard focused, make use of multiple elements to implement dishes that are far from simple. Consider this salad: Radicchio with Sweet Grilled Pears, Goat Cheese, and Blackberry Elderberry Vinaigrette. A dish that bold, that complex, can be a meal all by itself. Add some bread and wine and you are fully provisioned.
It could easily take you a year or more to work your way through The Wholefood Pantry. When you are finished, your pantry will be far better. And filled.