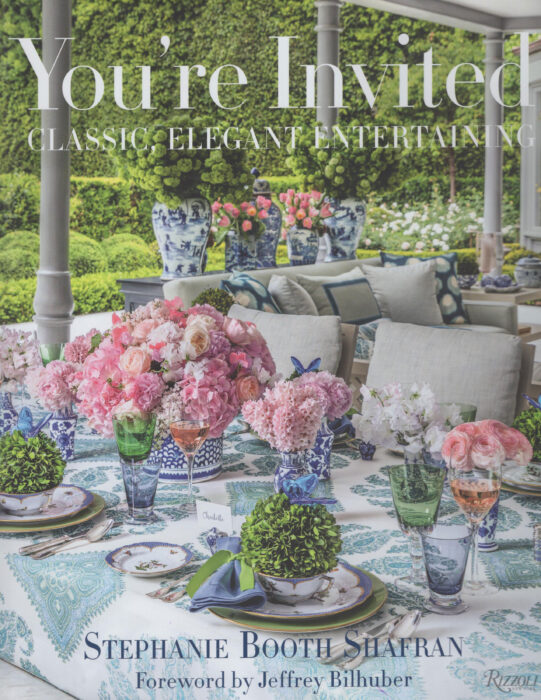 I've never encountered a book quite like You're Invited. It inspires awe and — when you examine a copy for yourself — you will immediately understand why. Author Stephanie Booth Shafran has given us a bible to regale your guests. If you want to entertain with color, detail and power, You're Invited is all you need.
The subtitle of this book is Classic Elegant Entertaining. It is just that. This is a book of food and beauty that will animate you to ramp up your entertaining. The style for parties displayed here is brilliantly displayed in stunning photographs by the team of Andrew and Gemma Ingalls. The book is oversized. From every aspect.
Stephanie is a fifth-generation resident of Los Angeles. She is socially prominent and active. She is, in a word, a socialite who has vast experience in entertaining on a serious scale, that fund-raising for museums and charities scale. She understands that quality is all-important. Quality not just in the food and beverages but in the visual appeal of the setting for "an event."
What kind of events? There are ideas here for a charity luncheon, wine and cigar party for gentlemen, holiday party magic, chic Manhattan dinner, a housewarming greeting, a fiftieth birthday party, and an afternoon by the pool.
To start your own party, you probably lay out some appetizers: cheese, sausage, … You know what your presentation typically looks like. Now, consider this scene from Stephanie: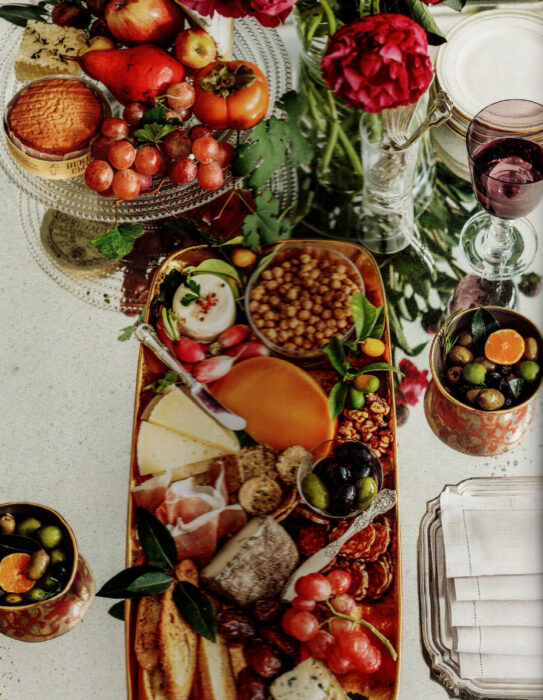 Or if you have a bar setup for making custom Bloody Marys, have you ever seen a display this rich: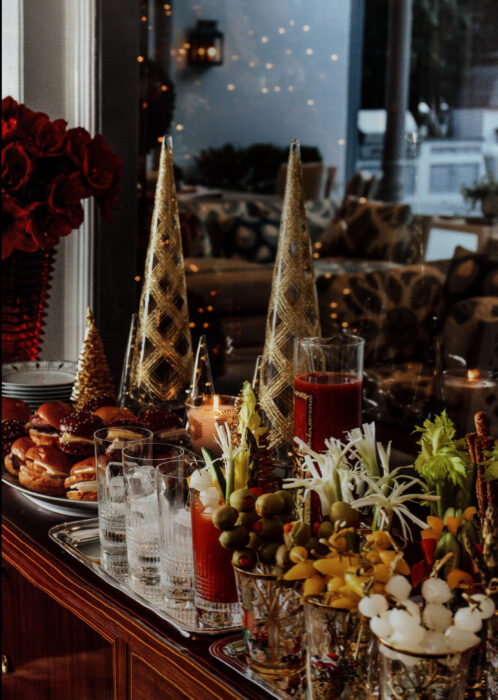 Page after page, the beauty here resembles Renaissance paintings. Glass, fabric, flowers, decorative fixtures, and light are employed with strategy and to great effect. Yet, if you pause and examine the picture, you'll find yourself saying, "I could do that." And you can. It's NOT a matter of great expense at all. It is simply a matter of layering details and contrasts. Even I can do that.
Of course, each of those party ideas comes with a suggested menu and the accompanying recipes. For the chic Manhattan dinner party, the menu is
Vodka Martinis with Rosemary Swizzle plus Champagne
Caviar-Topped Deviled Eggs

Cheese Toasts

Lobster, Shrimp, Crab and Oysters on the Half Shell

Butter Lettuce Salad with Seared Scallops
For that gentlemen's dinner, something I'm personally curious about, her suggestions are:
Whiskey Bar

Salads Topped with Beets and Saint Agur Blue Cheese

Salt-Block-Roasted Dry-Aged Porterhouse Steaks

Pommes Frites with Garlic Aioli and Ketchup

Caramel and Nut Tart

Sugar Cookies

Ice Cream Sundaes with Hot Fudge and Caramel Sauce
I like the menu: three desserts and French fries. Just the right perspective and priorities.
The food ideas in You're Invited are classics presented in elegant settings with every possible attention to detail. That beet salad, for example, isn't any ordinary beet salad. Instead, it's a composition of packed greens: olla rossa, Belgian endive, radicchio, butter lettuce and baby beet greens. All adorned with onion rings, walnut oil, vinegar, that blue cheese and a crown of toasted walnuts. The salad, like the other components, is a recipe perfected.
If you are a bit shy about entertaining, here's your guide. If you love to entertain but want to go on steroids, well, as the book says You're Invited.