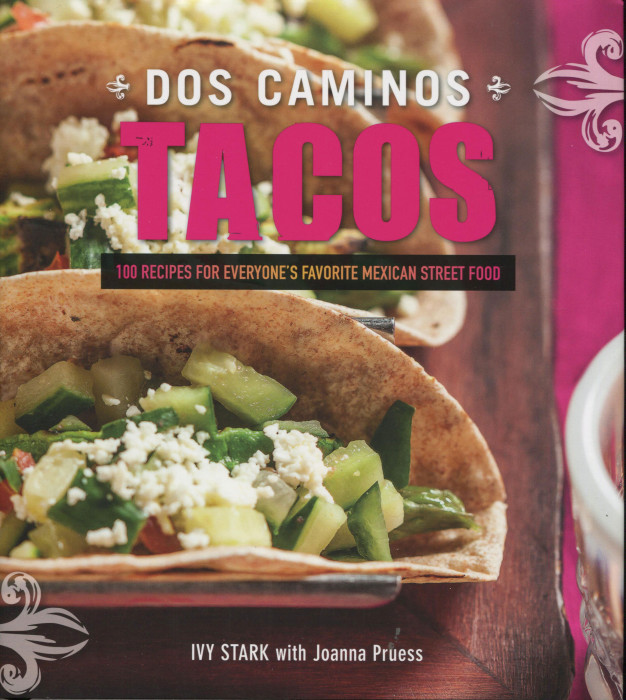 Suzi and I are in Austin to see our grandchildren perform in band. High school band is a big, big deal in Texas. And the Vandergrift Vipers are state winners. Between musical events, we will be trying Tex-Mex and Mexican food galore. Austin is a superb food city. Our cookbook reviews for a few days will honor this broad culinary venue. I'm reposting cookbook delights featuring the best in fiery cuisine. So, time to buy chiles and avocados. And, I guess, beer.
In Spanish the verb "taquear" has the core meaning "to fill up." In contemporary Mexico, it means "make a taco of it." Dos Caminos Tacos lets you make tacos literally from everything: meats and veggies, classical and contemporary, familiar and very surprising.
Executive Chef Ivy Stark is responsible for the special sparkle at the Dos Caminos restaurant group. There are several in New York City, plus more in New Jersey, Florida, Las Vegas and, yes, glorious Pittsburg. Suzen and I love to pop in, start with margaritas, savor some salsa, and move on to entrees.
It's very hard to be at Dos Caminos and skip Ivy's gorgeous, flavor-stuffed tacos. In this book, along with accomplished co-author Joanna Pruess, Ivy presents a taco encyclopedia.
After some early chapters on techniques, tortillas, salsas and condiments, Ivy tours the taco world with chapters organized by primary ingredient. Some of these ideas are true culinary gems from Mexico. Some come from Ivy's imagination, triggered by the markets and streets of New York and especially her home borough of Brooklyn. Here's the taco tour and some sample recipes.
No, tacos do not have to have ground beef or chicken. In Vegetarian, there ideas here that may surprise and surely will satisfy:
Grilled Asparagus and Avocado

Blue Cheese, Walnut and Cabbage

Butternut Squash

Grilled Sweet Potato Tacos with Ancho Glaze and Spicy Black Beans
For some reason, north of the border our protein tacos really are oriented around ground meat and poultry. Much of Mexico's population live on or near ocean coastlines that make Fish and Seafood established ingredients for native tacos:
Salt-Crusted Roasted Salmon with Black Bean, Corn and Mango Salsa

Baja-Style Cod with Roasted Tomato Remoulade

Grilled Red Snapper Yucatan Style

Tuna Tacos with Lime Aioli and Honeydew Jicama Slaw

Grilled Soft-Shell Crab with Heirloom Tomato Pico de Gallo
Beef or chicken? If I'm asked I often favor Poultry tacos. Here Ivy appeals to my personal preference with offerings like:
Wood-Charcoal-Grilled Chicken

Chicken Chorizo and Potato

Chicken Carnitas

Smoked Chicken Thighs with Watermelon Pico de Gallo

Chopped Chicken Liver [I told you, Ivy lives in Brooklyn]

Duck Carnitas
And after the chicken, there are Beef, Pork and Game variations for tacos, rich and hearty tacos:
Chile and Beer Braised Brisket

Tamarind Braised Short Ribs

Cascabel Chile Marinated Carne Asada with Caramelized Onion, Pico de Gallo and Catija Cheese

Beef Carnitas with Serrano Chile Sauce
The book closes with chapter for Side Dishes [Mexican Street Corn], Desserts [Dark Chocolate Tacos with Sour Cherries], and Beverages [Summer Peach Margarita]. You can construct a complete meal from Dos Caminos Tacos, a meal that will be strikingly spicy.
There is a major, major reason you want this book: the carnitas recipes. Ivy does venture south of Brooklyn and in her journeys to Mexico she's discovered the "standard Mexican-home" technique for making carnitas, be it duck or pork or beef or whatever you want to try. Ready? You cook the meat in a mixture of Coca-Cola, sweetened condensed milk and orange juice. Seriously. Really.
Suzen and I have one of our grandsons up for the 4th of July. There will be fireworks inside the kitchen, too. We are doing carnitas. With Coke and OJ and, yes, sweetened condensed milk. I can't wait. Photos to come.