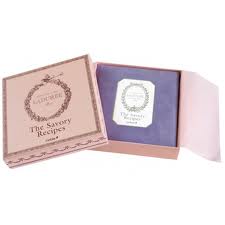 When you get it home, it's more of a present than a purchase. A lovely pink box beautifully inscribed with the logo in purple ink. Inside, the lavender felt-covered object comes wrapped in crinkly pink tissue paper.
And the object? Oh, the object. It's a cookbook, but not any cookbook. Laduree in Paris was founded in 1862 and is famed now for its macaroons.[ Yes, there is a green book that has those sweet recipes and that's another blog.] But this pink cookbook is filled with the savory recipes that make Laduree a landmark of superior food. The term "Laduree" denotes quality. The recipes in this book prove that in abundance.
Our first try out of the book was Blini with Alder-Smoked Salmon. We'll blog that with the recipes and pictures tomorrow. Here's a sample of the best of the best, tempting recipes from Laduree Savory: The Recipes:
Pearl Tapioca with Garden Fresh Mixed Herbs
Casanova Salad with crab and matzo
Asparagus Salad with Parmesan and Hazelnuts
Chicken with Candied Almonds, Saffron Celery Root and Rhubarb Compote
Chicken with Rose Petal Jam and Sautéed Potatoes
Pan Fried Marline with Roasted Almond and Tomato-Basil Jam
Caramelized White Tuna with Soy Noodles and Fruit with Cilantro
Red Onion and Cherry Tomato Chutney with Goat Cheese Croquettes and Rosemary
Each recipe is accompanied by a lovely picture to give you just the image and inspiration you need for guidance. The ingredient lists are short, and most recipes have just one short page of instructions in four or five steps. You see that food beauty and just the few steps that will transport you into the third dimension with the flavors filling your mouth.
If you love quality food, with recipes that are intriguingly different, then you should buy yourself a little present, Laduree Savory: The Recipes.