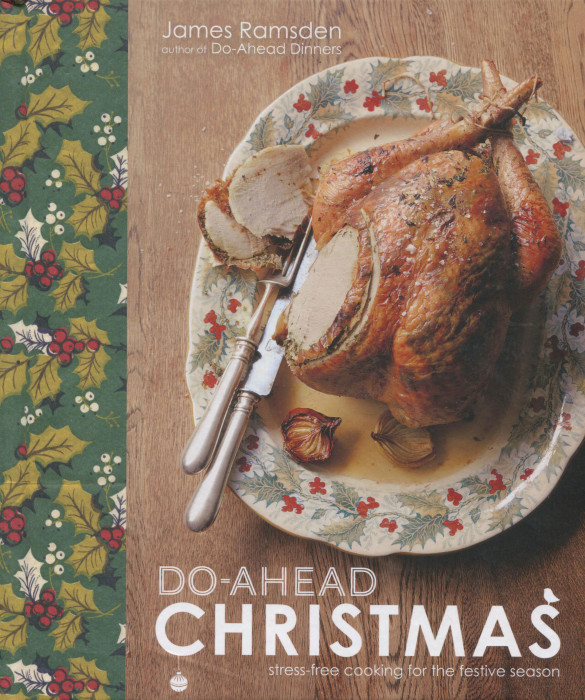 In 2015, in June, I wrote about Christmas. I had just received this clever book Do-Ahead Christmas. Now, it is 12/19 and in just six days will be eating Christmas dinner. There's still some time to cook ahead to make that day less culinarily challenging. And this book is dedicated to helping you get a head start. You can get a copy of this in a couple of days and that means you have days, not weeks or months, but days to get ahead. Give it a try!
---
Goodness, it is already June 2. The holiday season is just around the corner so I'm happy to write about this Christmas book which …
Oh, wait, you're upset? You're angry? Too soon for Christmas?
I can explain because although this book was published "seasonally" in late 2014 I did not get my copy until this spring and I did not want to sit on the book for months because it might get lost and there are lovely ideas here that you should hear about so my quandary has been whether to be proactive and get you the information you will ultimately need anyway or hang back until the "timing" was more appropriate but the essence of this book is that we need to rethink holiday meal timing so that you can prepare much of the meal in advance enabling you on your holiday to have an easier time while enjoying exceptional dishes and …
I need to catch my breath.
Pause.
Pause.
Inhalator.
Pause.
Much better.
Let me try again. When first published last year, Do-Ahead Christmas appeared a few months before the holiday. Like his earlier Do-Ahead Dinners, author James Ramsden is on a mission: how to enjoy your holiday, have to have a great meal at the close of that special day, and how not to be exhausted before the first course even hits the table.
You know the drill: you have worked all day so much that the meal before you is just a blur. You've worked so hard you cannot enjoy a bite. James has solutions.
This book, featuring very English recipes, offers you lovely holiday meal ideas, ideas that you can begin to work on the day before your feast. Or the week before. Or even months before — there is a chestnut and chorizo soup you can prepare now, freeze, and enjoy in the fall or winter.
Christmas is "the" holiday in Great Britain, but we Americans also have Thanksgiving. And, honestly, throughout the summer and fall and into winter we often entertain or wish to give our families a special meal. This book is filled with ideas to let you assemble a grand table days, week, and yes even months in advance. Here are some of the ideas, both main courses and side elements, that James has woven into his fabric of great meals:
Burnt Onion and Anchovy Sour Cream, for a fresh new dip

Bourbon and Maple Eggnog, to add extra flavor before or after your meal

Chestnut and Chorizo Soup with Saffron Cream

Chestnut Brandy Punch, to use up more of those English chestnuts you'll need

Fig and Prosciutto Stuffed Loin of Pork with Applesauce and Cider Gravy

Herb Stuffed Leg of Lamb with Watercress and Anchovy Sauce

Roast Onion, Potato and Blue Cheese Pie

Venison Wellington with Roast Onions and Epoisses Cheese
It's that last recipe that made me fall in love with Do-Ahead Christmas. Have you ever had Epoisses? It's French, creamy, sticky, gooey, intense. The cheese was actually lost in World War 2 when the Germans took away all the cows in the section of Burgundy where Epiosses was created,. After the war, one careful farmer began a restoration project that now lets us enjoy this exceptional cheese worldwide. The combination of epoisses with venison and the Wellington crust and filling is such a brilliant assembly of flavors that Suzen and I are not going to wait for Christmas. Yes, it may be too warm now, but I can plan for the first meal after the first frost.
The recipes here typically have two or three major flavor components, affording you definite intensity and complexity. If you did try to prepare two or three of these recipes on Christmas day, it would be a major, and even exhausting, effort. By spreading out the activity, you can achieve all the benefits without all the stress.
One very solid feature of this book is that it is not just for Christmas, or Thanksgiving, Day. The day after too is given serious attention. There are lovely recipes here for leftover turkey including:
Turkey and Ham Pie

Turkey Broth and Turkey Pho

Turkey Fricassee
For either the holiday season or for any time where you want to present a dazzling table with very intensely flavored dishes, Do-Ahead Christmas is a book you will enjoy. It's not a "one day wonder" at all. And, with the option to make ahead, to even freeze ahead, you can browse these recipes and begin to plan for the best dinners of your life. Do-Ahead Christmas is a book packed with ideas that deserve your attention.