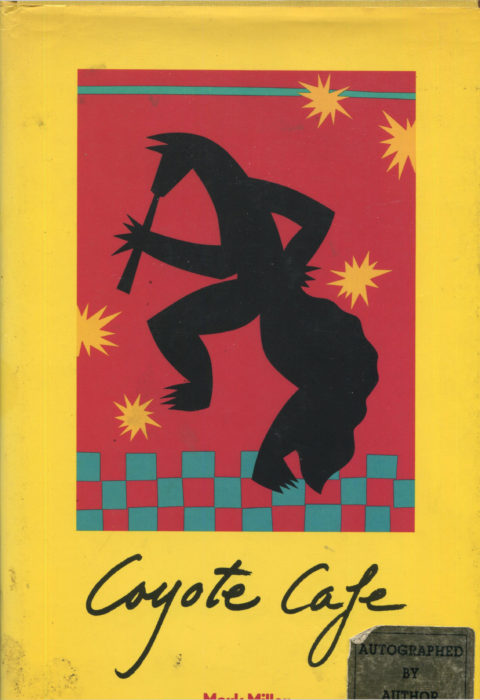 Yes, the book cover here is really beaten up. We have used this book frequently over the past 29 years. If you have a copy, maybe you have too.
What do we owe Mark Miller? The creator of Coyote Café and other restaurants. The author of so many cookbooks that opened the doors for us to true Southwester cuisine. Coyote Café was published in 1989 and help us learn about those fuzzy green things called tomatillos. They were, thirty years ago, a tad difficult to find. And Mark introduced us to those "simple" sauces, New Mexican Red and Green Chile, that are anything but simple but totally sublime.
In Coyote Café you find two classes of recipes: the very authentic ones Mark treasures and the new treasures he created inspired by the starkness of New Mexico. His Spicy Green Rice can be a meal unto itself. Ah, but you just might want to combine it with Mark's own Tenderloin of Pork with Apple and Red Chile Chutney.
Mark's Caesar Salad was an immediate success. He estimates that in the first five years on his menu, he made 300,000 of this brightened classic. The secret of course is the dressing, which in many recipes can be a tad complex. Mark's is not and I'm happy to share it here. No Worcestershire sauce, but lot and lots anchovy. And be sure to use the sherry vinegar.
---
Caesar Dressing from Mark Miller
Yield: enough for 6 servings
Ingredients:
1 ½ cups light extra virgin olive oil
6 cloves garlic
¼ cup premium anchovies
1 tablespoon Dijon mustard
2 tablespoons fresh lemon juice
2 tablespoons sherry vinegar
Cracked Lampong pepper to taste
Preparation:
To make the dressing, blend together the oil and garlic in a food processor. Sieve to press out the remaining juice from the garlic and discard the garlic. Cut the anchovies finely and mix together with the oil and garlic and the remaining ingredients.
---
After the fire of that salad, you'll want to end the night on a sweet note. There is nothing to match his Blackberry Cinnamon Shortcakes with Cajeta Carmel. The caramel is made with goat milk, but you can do dulce de leche for equal satisfaction.
Of course, your Coyote Café night should begin with his Watermelon Margarita.
From tequila start to caramel finish, Coyote Café will always be a classic and surely a personal favorite.