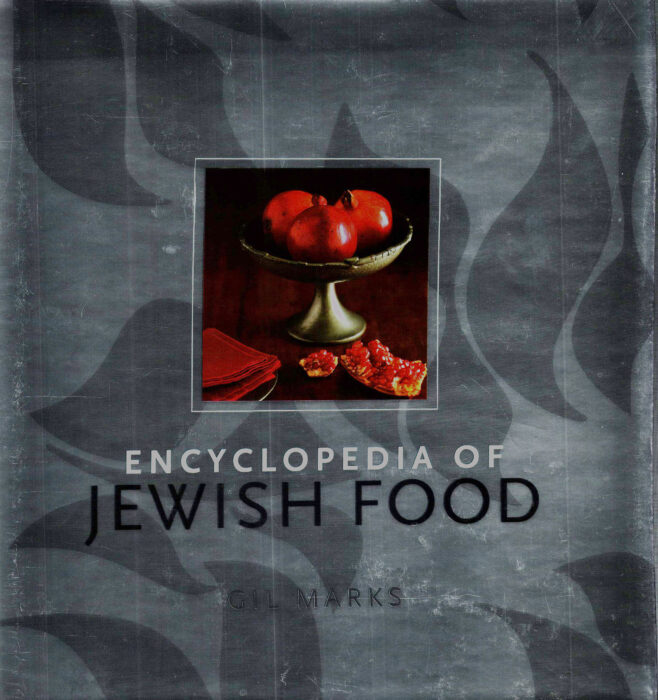 We are about five weeks out from Passover, which gives you just enough time to browse through the 656 pages of the Encyclopedia of Jewish Food and discover ideas from far and wide.
Jews have been spread around the world for two thousand years and generation after generation acquired and perhaps modified native cuisines. The resulting portfolio of "Jewish" food is thus incredibly thick. And delicious. And sometimes curious.
This was the last book by Gil Marks, a key figure in documenting Jewish cuisine. His other books include The World of Jewish Cooking [1996], The World of Jewish Entertaining [1998], The World of Jewish Desserts [2000], Olive Trees and Honey: A Treasury of Vegetarian Recipes [2004], and finally this volume in 2010. Gil died in 2014. Lung cancer.
Gil was a living encyclopedia and his heart and soul — plus I'm sure considerable sweat — went into this final work. Now, you may not have the chance to tour the book yourself anytime soon. So, with the holiday approaching, here are some very interesting ideas. You are not Jewish. The ideas are still interesting and probably quite new for you.
Agraz from Spain. Agraz refers to sour unripe grapes. Here that flavor is transferred to a soup with the grapes, tomato sauce, and honey. Simple and filled with contrast.
Bashsh from Uzbekistan: Bukharan Green Rice. Rice is cooked with cubes of meat and spices that tint the rice green. The spices and herbs include saffron, cilantro, parsley, dill and mint.
Charoset from Israel millennia ago: A Passover specialty. Gil offers Afghan Charoset that includes almonds, walnuts, dried apricots, dried figs, raisins, pomegranate, apple, banana, pear, and strawberries
Delkel from Hungary: Cheese Danish. A dough that includes sour cream and sugar with a filling of cream cheese, sour cream, egg yolks, and flour.
Eingemache from Germany: Jam made from root vegetables such as beets and black radishes. Gil provides Eastern European Beet Preserves: sugar, beets, lemon juice and zest, almost and walnuts, and ginger — both fresh and ground.
That a sample of A, B, C, D and E. There are more of each of those and, of course, F through Z in the Encyclopedia. Z has Zaban from Morocco: meringue or nougat made with egg whites, sugar, and nuts. [Yes, the Persian version is made with puff pastry, same name, quite different.]
The world unfolds in the Encyclopedia of Jewish Food. Go for a culinary exploration and be prepared to cook up a dish or two or maybe even 26 — one per letter.
Yes, the picture of the book cover is pretty beat up. We use the book.