On our first trip to Paris, about 25 years ago, Suzi and I got off the plane, dumped our bags and went to look for one of the famous "food streets" of Paris, the rue commercantes.
We quickly found one and wandered along. We encountered our first Parisian cheese stall: 8 feet wide and four feet deep. The right half was a tall set of shelves with about 60 different goat cheeses. We fled.
We knew how to ask for coffee and a croissant in French. One goat cheese? Yes. Sixty? No. We were overwhelmed. That day and the rest. We returned to New York woefully aware of our culinary ignorance.
Our French is still deplorable, though we can order more pastries now. As for the cheese, we depend on this lovely little book from 1996. Italy makes great cheese and surely the United States does. But French cheese is simply special. Singularly special.
This guide covers over 350 cheeses, grouped by type and listed alphabetically. Here's a typical page: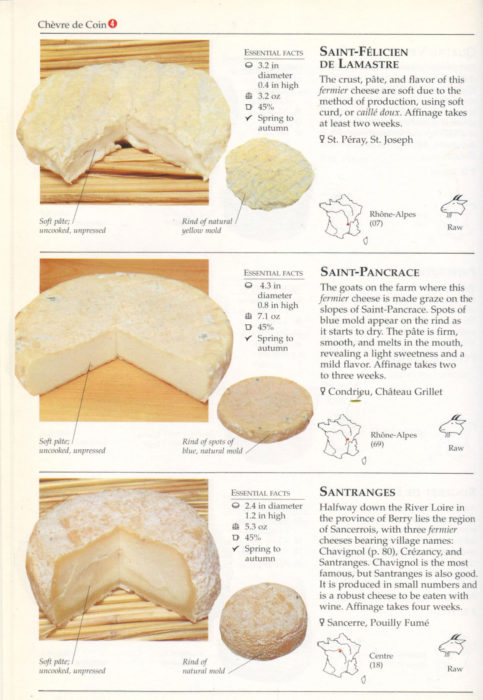 There is extensive coding to display:
Milk type

Production method

Geographical origin

Description covering textures, taste, smell, and appearance
The discussions are brief but informative. Ah, how many is 350 cheeses? There are generally considered to be between 350 and 450 distinct types of cheeses in France, though some "variations" have people consider the count rise to 1000. Clearly, this book captures most if not all. And surely the most important. Actually, they are all important in France.
Happily, there is color photograph of each cheese so you can gain some insight into the interior texture and the surface color and appearance. It would be rare for any of us to consume every French cheese on the planet, but it's a noble idea. And this 240-page volume is an intense and earnest guide for that cheese sojourn, no matter how far you make it.