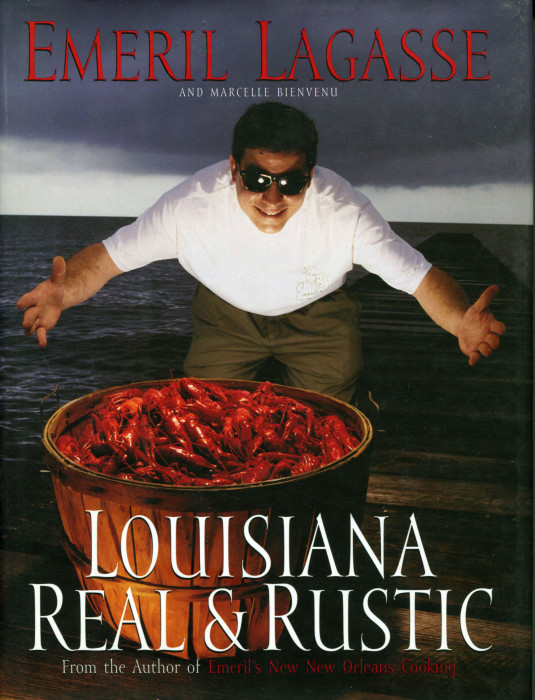 Emeril Lagasse is a man we all know. He's a very nice man in real life, very nice. When New Orleans was crushed by a hurricane, and his restaurants closed, Emeril rallied around his employees whom he treated as family. His generosity and kindness will never be forgotten. From the beginning, Emeril was known as a great chef and restauranteur. And author.
He seems to live by the dozen. He has an empire of a dozen restaurants. And he's written a dozen cookbooks. I believe this one, Louisiana Real and Rustic, was his second. The first book, Emeril's New Orleans Cooking, was the product of this new rising star of New Orleans cuisine. In Real and Rustic, he steps outside of the city, touring the byways of all of Louisiana to expose an exceptional cuisine.
Louisiana is not a well-known or well understood state. We hear "Louisiana" and immediately think of New Orleans or perhaps the bayous near the Gulf. But the state has different geological and agricultural regions. And its history is complex with its blend of French and Southern styles that happily merge in the recipes in this book.
Emeril notes that the food style is spicy, to be sure, but not so spicy that your tongue loses its sensitivity. With access to the seafood treasures of the Gulf, the lakes, the rivers and the bayous, Louisiana cuisine is happily seafood dense. Here you'll find ideas like:
Crawfish Boulettes [balls of crawfish meat]

Eggplant Shrimp Beignets

Trout Fricassee

Crab Pie
The French influence, evident in that Trout Fricassee, continues with Beef Fricassee and even a Fricassee of Pork and Turnips. Game and meat do appear:
Ducks with Fig Glaze

Pork Chops with Sweet Potato Gravy

Quail Stuffed with Corn Bread and Andouille Dressing

Turkey Bone Gumbo [a Thanksgiving leftover feast]
This is a Southern book so desserts are happily offered:
Praline Ceram Pie

Peach Crumb Pie

Blueberry Peach Cobbler
Along the way, Emeril offers little recipe gems he has developed using very Louisiana ingredients:
Green Jalapeno Sauce

Green Onion Dressing with Parley and Garlic

Smothered Green Beans and Potatoes

Emeril's Own Worcestershire Sauce [a gastronomic journey you'll relish]
Published in 1996, Louisiana Real and Rustic remains a superior cookbook. There is a touch of elegance and complexity that smiles at you, one recipe at a time. The recipes have that particular appeal that says, "Make me now." Suzi and I dip into Louisiana Real and Rustic year after year. Turn the pages and you will understand why. If you have never purchased an Emeril cookbook, I think this is the one to start with. I'm also sure it will not be your last.