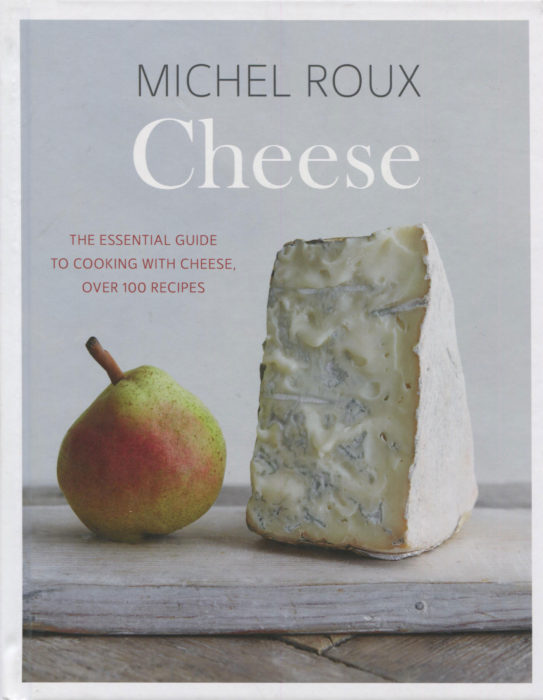 This is a sad day. Michel Roux died yesterday. A Frenchman who created a restaurant empire in Great Britain with his brother, Michel was a three-star chef who deserved all the acclaim he received. His  many books, like this one, are exemplars of cookbook writing. It's simply a delight to read and to use. To honor the man, why not track down one of his books and prepare one of his superior dishes.
---
It is so simple to describe this book: essential. Perhaps you know Michel Roux from his earlier works: Pastry, Eggs, and Desserts. Suzi and I have those three books on the bookshelf closest to our kitchen island. We want to be able to "grab and go."
This latest book, Cheese, was published just over a year ago and raises the standard for any tome devoted to cheese. Michel is now 77 and has a Michelin starred restaurant in England. His life began in Paris in 1941 in the 12th Arrondisement. The 12th is trendy now. Back then? Gritty.
When he was a mere seven years old, he began Sunday shopping as his local marché, one of those roving Parisian street markets. This one was open only on Tuesday and Friday. Michel shopped for cheese for his family's Sunday meal. And his love affair, the bond, with cheese began.
Michel has toured the world, sampling, savoring and discovering. France has over 1000 cheeses. Great Britain over 700. The world is amid an unprecedented cheese expansion that makes now the best time ever to be a cheese fanatic. With so many choices, how can you select what to buy? And, when you have them in your kitchen, what can do with them? Besides just eating them directly. What are the classic recipes and what new ideas can be tried?
In Cheese, Michel offers 100 recipes that answer those questions with class and deftness. There are eleven chapters in Cheese. Let's tour the book, chapter by chapter. And I'll offer you a recipe or two from each chapter, sometimes a classic and sometimes an invention of Michel's destined to make you smile in pleasure.
1:            Canapes: Parmesan Lace Shells filled with Goat Cheese and Semi-Confit Cherry Tomatoes; or Brie-Filled Mini Seaweed Scones
2:            Soups: Leek and Potato Velouté with Soft Tomme Cheese [tomme is a nutty cheese from the French Alps]
3:            Starters and Snacks: Mexican Tacos with Cheddar [just try it!]
4:            Salads: Grilled Treviso, Watermelon and Smoked Cheese [the Treviso is long-leaved radicchio and the suggested cheese id Scamorza]
5:            Fish and Shellfish: Sea Bass with Parmesan Crumbs and Eggplant Caviar; or Grilled Halibut with Parmesan and Ginger Hollandaise
6:            Meat Poultry and Game: Roast Pheasant with Tomme Vaudoise Cheese and Savoy Cabbage Paired with Gorgonzola Polenta
7:            Rice, Pasta and Bread: Prosciutto and Cheese Ravioli with Grilled Ceps; or Macaroni and Mushroom Gratin [ah, life beyond mac and cheese!]
8:            Vegetables: Artichoke Hearts Stuffed with Spinach and Mushrooms and Topped with Gruyère; or Filo Tart with Vegetables and Goat's Cheese        
9:            Great Classics: Gruyère and Vacherin Fondue; or Cheese Charlotte [layers of bread and cheese bathed in milk and eggs and all baked happily away]
10:          Desserts: Mascarpone-Stuffed Poached Apricots; or Filo-Wrapped Feta and Griddled Watermelon
11:          Basics: Roquefort Butter; or Green Olive Tapenade to pair with your favorite goat's cheese.
As you can see Cheese is replete with splendid ideas which just happen to be templates for you. You can swap out one cheese for one you prefer, add a different vegetable, dazzle with some further herbs.The recipes sometimes will take time — and you do get a warning. But the ingredient lists are fairly short, most instructions take just a page, and the writing is as crisp as the flavors. Well, some flavors here are more gooey than crips. Let's just say you will have an easy time reading and following any of the recipes.
The only problem in this book is where to start. Ah, problem solved. Here's a picture of the Filo Tart with Mediterranean Vegetables and Goat's Cheese.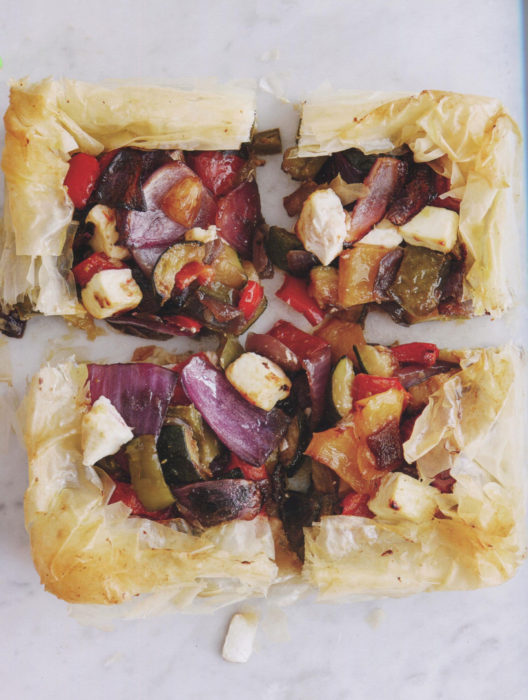 Suzi and I are making it this weekend. It will be days of NFL Playoff football, fine wine, and finer filo.
You can learn so much from a Fr