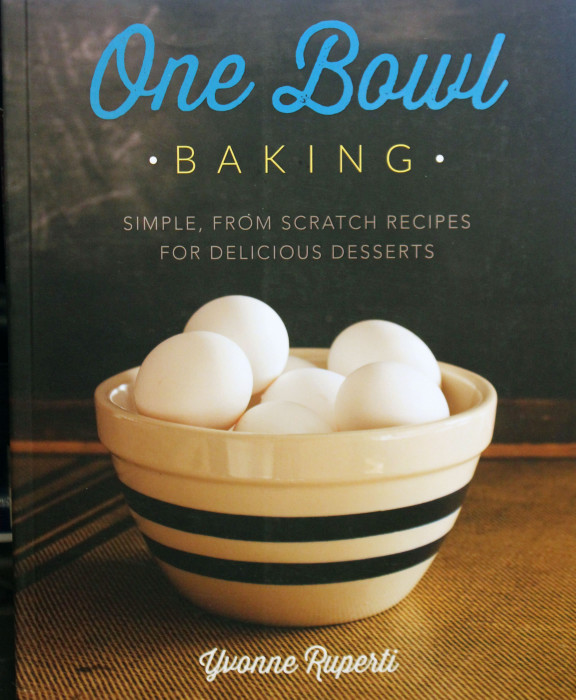 I first reviewed this book in 2014. It remains a goto book with a simple premise: take one bowl, mix stuff, and enjoy a lovely, lovely dessert. There are many different ideas here. If you have a sugar craving. If you have zero patience. Then One Bowl Baking is fast, sweet, and sublime.
---
This is a really bad analogy, but I'm doing it anyway.  Have you ever heard about wide spectrum antibiotics? These are drugs that can tackle an array of issues. They have benefits in many situations.
Well, One Bowl Baking by Yvonee Ruperti is a wide spectrum dessert book. It's ideal for many of us:
First and foremost, anyone who wants new dessert recipes with flair
Small kitchen and no room or tolerance for a mess
Kids you want to introduce to cooking, as a fun experience
You have a sweet tooth, little patience and you need a fix
Just for record, that last category, that is not the reason I am in therapy.
Author Yvonne Ruperti has appeared on number television cooking shows and understand the pulse the contemporary culinary audience. We want good things, new things, exciting things, but too many of us have an attention span that is not up to that needed hour or two in the kitchen. Yes, on TV the cooking experience takes an hour. Remember, they edit the video tape.
Yvonne's book is ideal here. After an introductory chapter on the maxims of good baking, there are nine more chapters covering many aspects of baking — no, there is no full-sized apple pie but there are tarts. Yvonne has a mission and she knows the mission limits. Here are the chapters and examples of representative recipes. You'll see from these recipe titles that Yvonne has sought to make these one-bowl dishes rewarding, ones you'll return to:
Muffins and Scones: Peaches and Cream Streusel Muffins, Upside Down Sticky Pecan Muffins
Cookies: Thin and Crispy Malted Milk Chocolate Chip Cookies, Double Chocolate Espresso Cashew Cookies
Bar Cookies: Ruby Red Grapefruit Bars, Pina Colada Bars
Cupcakes: Chocolate Banana Cupcakes with Malted Milk Ganache, Mocha Valencia Cupcakes
Snack Cakes: Rocky Road Fudge Cake, Banana Bourbon Cake with Bourbon Whipped Cream
Quick Breads, Pound Cakes, Bundt Cakes and Tube Cakes: White Chocolate Cream Cheese Pound Cake, Sticky Honey and Fig Cake
Party Cakes: Triple Chocolate Blackout Cake with Espresso Ganache. Mocha Buttercream
Cheesecakes and Tarts: No-Bake Cheesecake with Fresh Strawberries, Juicy Mango-Raspberry Crumble Tart
Pudding Cakes, Upside-Down Cakes, and More: Blueberry-Plum Cornmeal Upside-Down Cake, Mocaholic Hot Fudge Pudding Cake
What? You read this and nothing appealed to you? I would suggest you call 911 and mention that you are in the midst of a serious, incredibly debilitating stroke.
I had trouble just typing this list. Yvonne clearly has chocolate and caffeine issue, but there is major fruit issue to. The recipe titles here achieve what they should: they make stop and read again and wonder if you just start making things now.
Beyond the attracting titles, the ingredients lists are modest, the instructions are carefully written in just a few short paragraphs. The economy here is not just in one bowl, but in the effort that is required to satisfy your dessert cravings.
Suzen went through the book page by page, put it down, sighed, and looked at me. "There's a lot here," she said. "I suppose you want to begin with the Rocky Road Fudge Cake." She was right, on both counts. One Bowl Baking is your espresso expressway to perfect endings. It's not a miracle drug. It's a baking book you want to own.